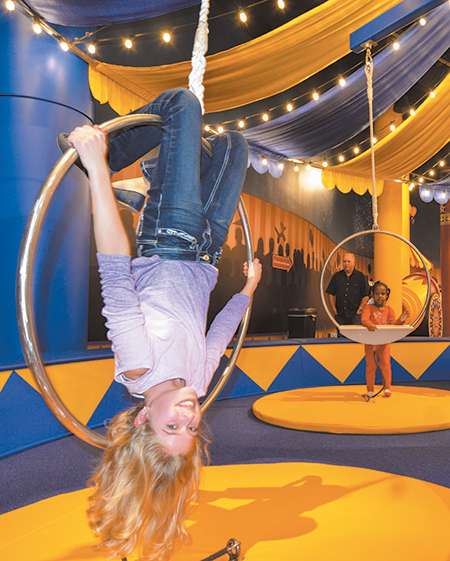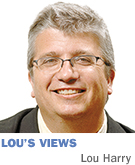 What was once the most popular form of entertainment in the country has hit hard times. With the famed Ringling Brothers and Barnum & Bailey Circus disbanded, animal acts under fire from PETA, and clowns more often referred to these days as creepy rather than fun, the reputation of the circus could use some brightening.
The Children's Museum of Indianapolis is doing its part. Or, at least, for a brief time, showing that the circus can colorfully represent excitement, daring-do and wonder again. Its new, highly interactive show "Circus … Starring YOU" (through Nov. 26) offers a three-ring fantasy of circus life with just enough well-integrated physics lessons to keep it from feeling too frivolous (not that frivolous fun is a bad thing).
Created by the Children's Museum and refreshingly free of product tie-ins, the show is indistinguishable in quality from higher-budgeted touring exhibitions. It takes no position on circus-related issues, instead focusing on the world of make-believe, the kick of showing off impractical skills, and the fun of sparkly role-playing.
Among its offerings, there's a clown car for crowding the whole family into, a photo-op-ready oversized barbell and non-operative cannon, plenty of dress-up gear, and three large rings–plus surrounding areas—to bring out the inner P.T. Barnum in the kids in your life.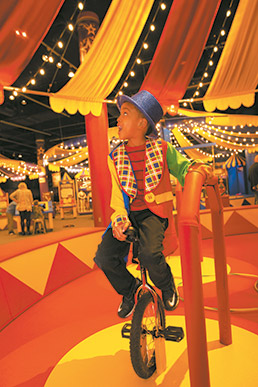 (Photo courtesy of The Children's Museum of Indianapolis)
Circus skills are given minor testing via stationary unicycles, low-hanging aerial hoops, and sets of balancing ladders (technically known as Roman ladders). The place you are most likely to stand in a line–and a line for the line—is a high-wire walk where a virtual-reality headset puts you high above a crowd of animated gawkers. The thin path is fairly short, but the costumed staffers were efficient and playful and indulgently allowed me to pause halfway through my virtual high-wire walk to look up, down and around. It might sound easy but, later, I did watch a pre-teen take a tumble. A warning is posted telling anyone who suffers from vertigo to find fun elsewhere.
Video is effectively used to enhance while never dominating. One game tests the player's ability to catch trapeze artists rather than send them crashing to the ground. Another, goofier program tells how to measure an image of your face, modify it with clown makeup and gear, then email it to yourself or anyone whom you want to never see you quite the same way again.
Hands-on areas instruct on how to tie basic hitches, which proved more effective than ones designed to show the rhythm needed to juggle. Even with clear instructions, these guide tracks seemed to largely go over the heads, so to speak, of visitors who treated them as a sort of Skee-Ball game before moving on.
Display items—vintage posters ("seals that exhibit intelligence scarcely less than human in marvelously skillful performances" promises one), authentic costumes, circus wagons, etc.—add some authenticity. But while you may pick up a factoid here or there (ringmaster costumes were based on gentlemen's riding outfits, for instance), the kick here is in the pleasure of running away to join the circus … at least for an hour or two.•
__________
This column appears weekly. Send information on upcoming arts and entertainment events to lharry@ibj.com.
Please enable JavaScript to view this content.