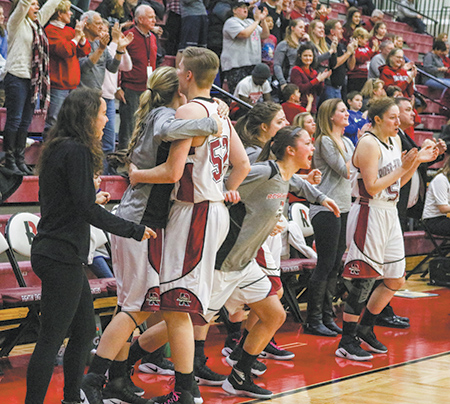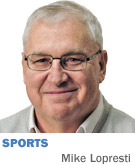 TERRE HAUTE—This is the way it is for the Rose-Hulman Institute of Technology women's basketball team.
The mechanical engineering major brings the ball down the floor and can either pass inside to the chemical engineering major, or maybe to the wing to the biomedical/mechanical engineering double major. That's unless the electrical engineering major is in the game, and then maybe she can take the shot. If all this seems a little odd, well, listen to junior guard Alyzia Dilworth.
"It doesn't seem that weird to us," she said, "because everyone is an engineer."
Yep, 13 players, 13 engineering majors. If you put all their academic honors end to end, it might stretch to Vincennes. Oh, but did we mention how the basketball is going? They just won the Heartland Conference to take a 24-3 record into the program's first-ever NCAA Division III tournament.
But to fully appreciate where Rose-Hulman's women's program is, you have to understand where it's been.
You should know, for instance, it was born only 22 years ago, when the school went coed.
"If we're going to have women, we're going to have a women's basketball team," college President Samuel Hulbert said at the time. OK. The first team had six members, one of whom was a tennis player who had never been in an organized game.
"Sometimes, they never played 5-on-5 until they got to game day," said Jon Prevo, now the head coach, who was then an assistant for the men's team. "It wasn't pretty. They took some thumpings, trust me. I saw them."
That would include 88-49 in their debut, and other painful scores such as 119-26 and 111-31. A final record of 0-20, with 15 of the 20 defeats by at least 30 points. Twice, because of foul-outs, Rose-Hulman had to finish a game with four players. The biggest cheer of such a season? That one's easy, said Kevin Lanke, now sports information director, who was then doing the games on radio. It was when the tennis player, Jamie Funk, actually threw up a shot and it went in.
"That one brought the house down," Lanke said.
You should know that, after five seasons, the record was 6-114. Christina Forsyth, an engineering prospect with a good jump shot, was here by then. "Oftentimes, we had to have some of our male managers come in and help scrimmage with us to have enough players," she said. "I think the most important thing was, our coach never let us give up. Anything worth doing is going to be tough. One of the skills I learned is how to keep going when things are tough, how to have tenacity in facing big goals. That's something I've taken with me to this day."
Now she's Christina Drake, senior manager of process and performance at MISO, which monitors power grids in 15 states and Canada. She's also still fifth on the Rose-Hulman career-scoring list.
You should know the first winning season did not come until 2006, and there were only three in the first 20 years.
But now look at Rose-Hulman. Conference champion, 24-game winner, NCAA Tournament invitee. One of the toughest-minded defenses in the nation, allowing only 45.7 points a game and 31 percent shooting. A journey of basketball light years.
"I've been here to watch all 21 years," Prevo said. "Got started, got to the infant stage, then got to the toddler, then to the grade school, high school, now we're at the college level.
"You have to start somewhere. If it wasn't for those first years and those teams and those young ladies and their commitment, we wouldn't be where we're at now. Those young ladies are part of this year's team also. They will get a piece of the net, I will make sure of that."
When Prevo was with the men's program, the recruiting effort was directed at the nearest four or five states. But women who want to be engineers and are good basketball players and wish to come to a school that costs more than $60,000 a year don't grow on trees in Indiana, Illinois, Ohio and Kentucky.
"It didn't take long to figure out we didn't have enough numbers each year in that four- or five-state radius like we did on the men's side," he said. "It's not that we're going out to see kids in California or Colorado or Texas or Pennsylvania. But that's where our academic standards and reputation have helped us out."
He knew anyone in the nation searching online for engineering schools would come across Rose-Hulman in a hurry. He understood the first question he'd usually have to face: Rose-Hulman? Terre Haute? Where in the name of Archimedes is that?
But he had the answers and his school had the name in engineering, and now consider the conference championship roster. Women from eight states, with the starters from Illinois, Michigan, Missouri and Pennsylvania. The lone Hoosier is guard Taylor Graham from Hamilton Southeastern, who came off the bench to score 10 points in the first half of the 50-40 conference tournament championship win over Transylvania.
She probably knew where Rose-Hulman was located early on. But leading scorer Ally Bromenschenkel, or her twin sister, Abby—neither of whom who saw a B grade in high school in Illinois? Or Dilworth from Grand Rapids? Or Abbie Marshall, the senior double major from St. Louis? Josie Schmidt, the center from Eighty Four, Pennsylvania? Not a clue.
Prevo would make his case for them all. "Then it comes down to whether the family can do it from a financial standpoint, and we go through those battles yearly," he said. But now he has athletes as well as students.
"Before, you could see the wheels turning on the floor. And from an athletic standpoint, if the wheels are turning on the floor, the play's already over with," he said. "So we have more young ladies in the program who have a very high basketball IQ, of very high intellect, and they're able to put that aside and focus on the basketball part, and there's where we're different from years previously."
Not that books still don't rule. When the Fightin' Engineers were preparing for the conference tournament, Prevo had to practice one night at 10 p.m. Finals week.
But they were too close to history to be stopped. In 2016, they had lost in the conference tournament and hoped for an at-large bid with their 23-4 record. It never came. Four of them sat a bit before the Heartland tournament and discussed all that.
Marshall: "When I started, the program was still building. Every year, we've brought our expectations higher. Now, winning the conference is the next expectation."
Abby Bromenschenkel: "We don't want to feel like we did last year when we were sitting in the lobby waiting to get a bid and it didn't happen."
But isn't it hard, mixing engineering finals and the pressure of a conference tournament?
Abby Bromenschenkel: "For her [nodding toward double-major Marshall], it's not that hard."
Marshall: "It helps me with time management, knowing I have to get my homework done before practice."
Ally Bromenschenkel: "Me and Abby, we studied about 44 hours in preparation for our finals. School can be very overwhelming at times, and it's good to get out on the court and completely clear my head."
Dilworth: "Our floors do a lot of different things, go on trips, and we have to miss a lot of those. It is a lot of sacrifice, but it's definitely worth it. I've pulled more all-nighters than I ever have.
"I think we'll appreciate this more after the season is over. Right now, we're very focused on the process. I don't know if we get to cherish it as much now."
She's thinking law school; Ally is considering work as a design engineer; Abby, orthopedics; Abbie already has a job lined up in the biomedical field.
"Their determination and grit and toughness kind of sets them apart. That's why we've put ourselves where we are," Prevo said of his team.
The NCAA sent them to St. Louis to play Wheaton March 3 for their first tournament game in history. Young women blazing a trail at Rose-Hulman, with a basketball in one hand and a book in the other.•
__________
Lopresti is a lifelong resident of Richmond and a graduate of Ball State University. He was a columnist for USA Today and Gannett newspapers for 31 years; he covered 34 Final Fours, 30 Super Bowls, 32 World Series and 16 Olympics. His column appears weekly. He can be reached at mlopresti@ibj.com.
Please enable JavaScript to view this content.