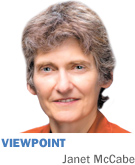 I recently returned to Indianapolis after working for seven years in the Office of Air and Radiation at the U.S. Environmental Protection Agency. I want to share my experience with my fellow Hoosiers because the public rhetoric about the relevance and credibility of the agency has become so polarized.

Protecting public health is a non-partisan issue. A healthy environment contributes to strong local economies and job growth. Businesses want to locate where the quality of life is good and workers and their families are healthy. EPA was created in 1970 by Republican President Richard Nixon, its first administrator was the great Hoosier William Ruckelshaus, and the key environmental statutes EPA implements were adopted by overwhelming, bipartisan majorities.

The Clean Air Act established a federal-state partnership, which has grown stronger over the past eight years. Under the act, EPA sets national public health goals and standards, while states have primary responsibility for implementation. EPA's work is essential when air pollution crosses state borders. In the past eight years, EPA worked with states to adopt rules that set those minimum expectations but allowed states flexibility to design their own approaches as much as possible.

Three principles guided our work: Follow sound science, follow the law, and be transparent. These principles were articulated by Ruckelshaus in the earliest days of the agency and were our touchstone every day.

Science. EPA identified the public health impacts of air pollution and the technical, engineering and operational opportunities to reasonably reduce it. Then we followed accepted peer-review procedures and provided our technical and scientific information to the public for review.

The law. The agency's excellent record in court shows we acted within our legal authority. In the 24 air-quality-related decisions in 2015 and 2016 issued by the court that hears most challenges to EPA regulations (the D.C. circuit), EPA prevailed in 19 of those cases, largely prevailed in three, and lost only twice, no matter whether the judges were appointed by Republican or Democratic presidents.

Transparency. My colleagues and I attended hundreds of meetings and traveled to every state to meet with representatives of industry, state and local government, community and public health groups, and members of the public.

EPA career staff are among the hardest-working, smartest and most dedicated professionals I have ever met. They come from all parts of the country, with professional degrees in the sciences, engineering, law and public policy. They have worked in industry, academia, state and local governments, other federal agencies, and not-for-profit organizations. They are fully committed to protecting public health and to the three principles mentioned above.

There is a reason we don't hear about acid rain, toxic leaded gas or rampant air pollution. There is a reason U.S. skies don't look like the photos we see from China. Thanks to EPA's working with states to implement the Clean Air Act, air pollution in this country is down 70 percent since 1970 while the nation's economy has tripled. American businesses have capitalized on smart policies and continue to find ways to produce products with less pollution.

The recipe for success of relying on science, following the law, and being transparent should continue to guide EPA and will lead to a stronger economy and improved public health for all Americans.•

__________

McCabe worked as acting assistant administrator at the Environmental Protection Agency's Office of Air and Radiation until January and spent six years as the assistant commissioner for air quality at the Indiana Department of Environmental Management.