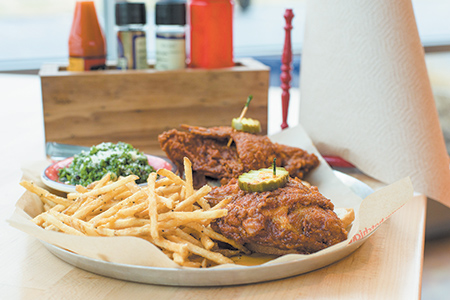 Central Indiana has no shortage of home-grown fried chicken joints to boast about. Hollyhock Hill has long been a place to show off homespun Hoosier-ness in poultry form. Maxine has made a name for herself with her chicken and waffles. Worthy out-of-towner The Eagle has filled a void on Mass Ave. And who among us wouldn't accept an invitation for a quick road trip to Gray Brothers Cafeteria in Mooresville?
And now there's Joella's Hot Chicken (4715 E. 96th St., 317-663-8880), a Louisville import taking over the spot previously occupied by 96th Street Steakburgers.
Joella's name comes from Joe and Ella, the chicken-makers who inspired Joella's founder and CEO Tony Palombino when he was a young boy lingering in his parents' restaurant. Palombino, who also founded BoomBozz Craft Pizza, launched the first Joella's in 2015 with recipes tested at his Manny & Merle restaurant (now Merle's Whiskey Kitchen) in downtown Louisville.
Hot Chicken is rooted a bit farther south, in Nashville, where it's defined as chicken that is marinated in a watery mix of seasoning, then floured, fried and sauced with a spicy paste and served with pickles on white bread.
That's what you get at Joella's, with only a few alternatives. Patrons queue up through the center of the restaurant, place orders at the counter, then take a seat in a space with all the atmosphere of a crowded food court.
You can select a Quarter White ($8.50) or a Quarter Dark ($8.25) or save a few bucks by combining them into a Half Bird ($11.50), each accompanied by one side dish. Second sides can be kicked in for an extra $1.25. Big Wings (three for $8.75) or Jumbo Tenders ($8.50) include one sauce. And the Chick'N & Waffles ($9) can incorporate tenders, wings or a quarter with a dousing of maple syrup or spiked honey. The two sandwich choices are the Dixie Chick'N Sammie and the Chick'N & Pimento Sammie (each $9).
Whatever the variant (with the exception of the Vegan Chick'N), what you get is a dark red, messy piece of poultry with a light crunch and a minimum amount of greasy fallout in the basket below. Meaty but not to a point where steroids seem involved, the breasts and tenders were highlights. Legs and wings didn't separate easily from their thigh and breast partners and I didn't sense nearly enough differentiation between the Ella's Favorite ("just a touch") and the Tweener ("medium heat"). The Hot was enough to keep me from taking the dare of the "Fire in the Hole!"
I didn't find any cause for celebration among the sides, with serviceable Crispy Thin Fries, bland Creamy Mac N'Cheese, and a not-too-sweet Sweet Vinegar Slaw competing for most forgettable. The parmesan-spattered Kale Crunch Salad ($7.50), however, is a sight to behold—a Devils Tower-like mountain of tightly packed kale, currants and almonds with a lemon zest dressing that almost convinces you that you are eating something besides kale.
A few grace notes help round out the meal. The taps dispense Boylan brand sodas instead of the standard Coke or Pepsi products, which means birch beer and cream soda are among your beverage options. And prepare to fight over the Fried Nutella Poppers ($3.99) for dessert—unless you order your own Banana Pudd'N ($3.50).
Joella's, in short, is a spot where proximity matters. It's a good neighborhood standby, but if I'm rounding up a road trip for fried chicken, well, who's up for a drive to Gray Brothers?•
Please enable JavaScript to view this content.