Fast-growing business lines are hard to come by in the insurance industry. Locally based OneAmerica Financial Partners Inc. has one on its hands, and it's beefing up efforts to capitalize.

The business line is long-term-care insurance, which covers day-to-day health care expenses for seniors who aren't able to care for themselves. Demand for "stand-alone" long-term-care insurance has been waning for years—partly because of higher prices—but demand for hybrid products, which OneAmerica specializes in, is on the upswing.

Stand-alone long-term-care insurance works like health insurance—policyholders get payouts only when there's a qualifying event. But hybrid products fuse long-term-care coverage with a life-insurance policy or an annuity, guaranteeing payouts even if the policyholder never needs long-term care. A top selling point for OneAmerica's hybrid products is that buyers' premiums don't go down the drain.

OneAmerica's "asset-based" long-term-care business is its fastest-growing unit, officials said, with sales rising at a brisk clip—fueled in part by the swelling ranks of baby boomers considering such products. Bullish about growth and eager to fend off competitors, policyholder-owned OneAmerica is pumping manpower and money into the niche.
"Because of this unique market position we're in," said Pat Foley, president of the firm's Individual Life and Financial Services Division, which includes long-term-care insurance, "we feel like we have an opportunity to really establish ourselves as not only a dominant player in the U.S., but as a thought leader in the marketplace."

Long-term-care insurance covers everything from part-time home health care to a full-time stay at an assisted-living facility. The stand-alone version has turned out to be a money-loser for insurance companies—which, among other miscalculations, underestimated their liabilities. In the past few years, insurers responded either by sharply raising premium rates or pulling out of the business altogether, spurring consumers to consider hybrid products.

OneAmerica got into long-term-care insurance through its 2005 purchase of Indianapolis-based Golden Rule Financial Corp. According to S&P Global Ratings, it's now the nation's largest annuity-based long-term-care insurer and the second-largest life-based long-term-care insurer.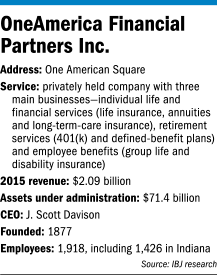 The company's annuity-based long-term-care coverage is built around a CD-like investment that pays a guaranteed rate of interest.

In a report, S&P said it was comfortable that the company is achieving its growth without making the same pricing mistakes that stung providers of stand-alone long-term-care insurance.

What OneAmerica sells "differs from traditional LTC in that any claims first draw down on the value of the policy," S&P said. "Management has a track record of not being aggressive in product pricing or design and has taken steps, when needed, to reduce risk by raising prices or reducing sales of certain products."

In an interview, OneAmerica CEO Scott Davison said the products are priced to work for the company and for its customers.

"We have the data to back it up—this is absolutely insurable. It doesn't solve everybody's need, because you do have to have some savings to make it work," he said, but the company's goal is to provide a mechanism for people who can save money the ability to obtain coverage.

The company's Individual Life and Financial Services Division represents about 60 percent of its business. Its other business lines are retirement services (such as 401(k) plans) and employee benefits (including group life and disability insurance).

OneAmerica's long-term-care business grew 23 percent in 2016, and the company wants to add fuel to the fire. Last August, Foley said, the company's board gave the green light on a multi-year, multimillion-dollar investment in the unit that will include adding 100 employees.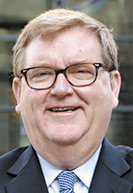 Foley
"We're adding a dramatic amount of resources to this with the objective of growing over 25 percent a year over the next four years," Foley said.

He later added: "We did approximately $650 million in [sales] last year in this product line. We'd like to grow that over the next four years to over $1.5 billion."

Changing demographics

OneAmerica's long-term-care product targets pre-retirees and retirees. Medicare, the federal program for the elderly and disabled, covers almost no long-term-care costs.

The company is counting on the country's aging population to support its growth.

There were 76 million U.S. births from 1946 to 1964, according to the Pew Research Center, making the so-called baby-boom generation the largest in American history. Boomers started turning 65 in 2011 and will all cross that age by 2029. In 2010, 12 percent of the U.S. population was 65 or older; that figure is expected to be 20 percent by 2030.

"The need for long-term care still exists," said Deep Banerjee, a life insurance specialist with S&P Global Ratings. "But traditional long-term-care products are almost not there anymore, which opens up [hybrid] products to a bigger marketplace."

The main issue with stand-alone long-term-care insurance, observers said, is that insurers made actuarial assumptions in the 1990s that proved too rosy. Specifically, they underestimated how many people would file claims, underestimated claimants' life expectancy, and overestimated interest returns from invested premiums.

The number of annual stand-alone long-term-care insurance policy sales fell 72 percent from 2004 to 2015—from 372,000 to 104,000—according to Limra International, formerly known as the Life Insurance Marketing and Research Association. Premiums fell almost two-thirds, from $716 million in 2004 to $261 million in 2015, the latest year of available data.

Carmel-based CNO Financial Group Inc. is among the many insurers whose ambitions in stand-alone long-term-care insurance backfired. Claims far outpaced premiums and investment returns, and the company faced a raft of related lawsuits and complaints, settling one multistate investigation for $6.3 million in 2008.

Also in 2008, the company transferred a chunk of its long-term-care business to a member-owned trust overseen by Pennsylvania insurance regulators in a move that freed it from a money-losing segment with more than 140,000 policyholders. It still has a small block of long-term-care business.

"CNO is selling LTC policies today," said Randy Binner, an analyst with Virginia-based FBR & Co. "But they're much more expensive and the payouts are much more limited. So they're writing it at a level they're comfortable with."

Hybrids gaining favor

The guaranteed-payout benefit is hybrid policies' most attractive lure. If policyholders die before they file any claims, they can assign a death benefit to an heir. Another benefit is that premiums don't increase and policyholders have the option to withdraw cash in the form of premium returns.

According to Limra, hybrids represented 67 percent of new long-term-care policies and 93 percent of new premium dollars in 2015. Life-insurance-based products notched $3.1 billion in sales in 2015, up from $600 million in 2011, Limra said, and annuity-based products generated $470 million in 2015 sales.

Jesse Slome, a spokesman for the American Association of Long-Term Care Insurance, said hybrid products are easier for insurance and investment brokers to sell.

"Success breeds success," Slome said. "So when a financial adviser working at a large firm sells a product like this to their client, they tell every other adviser."

Lincoln Financial, once headquartered in Fort Wayne but now based near Philadelphia, is the other big experienced hybrid player.

Banerjee, the S&P Global Ratings analyst, predicted that other insurers will join the fray, given that this is one of the few growth areas in insurance products.

OneAmerica isn't interested in sitting idly by. To help ratchet up sales, the company announced in December it was bolstering its distribution channels—insurance brokers and broker-dealers—by adding banks.

Foley, the OneAmerica executive, acknowledges competition might intensify but said annuity-based long-term-care insurance, especially, is not easy market to crack.

"They're going to look around and say, 'Where are we going to get our expertise to develop and market products?'" Foley said. "And it's fairly limited versus the life insurance industry; it's a smaller pool to fish in."

The road ahead

One factor limiting growth is that, while many people at or near retirement likely would benefit from long-term-care insurance, only a slice of those have the will or financial means to buy it. And those who do must pass a health screening to qualify.

As a result, Slome said, the challenge for insurers as the landscape becomes more competitive will be to "grow the market" instead of just exchanging market share.

According to a 2016 Limra survey about attitudes toward long-term-care insurance, 67 percent of respondents said most people need such coverage and 52 percent said they personally need it. Only 16 percent said they actually own it.

OneAmerica believes it's uniquely positioned to capitalize on that untapped demand.

"It covers one of the biggest needs families have at the end of life," Foley said. "And that is, the ability to have funds available so people can spend their final years and final months in dignity."•