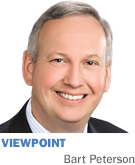 One of the many fissures in American society highlighted by the 2016 election was income inequality—particularly the growing gap between those the media call "working men and women" and "the elites."
The highly educated in Indiana and across the country have done very well in the 21st century economy, as their knowledge has become valuable in a growing number of markets across the world, and they have generally not faced low-wage competition from foreign countries.
But for too many Hoosiers and Americans, things have been getting worse. Wages have stagnated and hope for income mobility has faded.
Average wages for Indiana's non-management workers have risen less than 50 cents an hour since 2000, according to inflation-adjusted data from the U.S. Bureau of Labor Statistics. In the 1990s, those same workers saw their wages rise more than three times as fast.
And low-income kids growing up in Indiana's five largest urban areas—Indianapolis, Gary, Fort Wayne, South Bend and Muncie-Anderson—are ending up poorer as adults than their parents. Their incomes are lower, or whatever gains they are making are smaller, than those of their peers around the country. That's according to an analysis of two generations of income tax returns by Harvard economists.
I'm not calling for government-directed income redistribution. We don't want to remove incentives for growth at one end or create a dependency state at the other.
But it is critical to recognize that everyone has an interest in narrowing income inequality by lifting up those left behind in the 21st century.
Growing income inequality inevitably leads to cultural clashes. Equality of opportunity is an American ideal that should not become an empty slogan.
And at a practical level, when everyone is earning more, businesses will have a deeper pool of potential customers, each with more disposable income. When more than two-thirds of the U.S. economy runs on consumer spending, that's a big deal.
So how do we bridge this gap?
I'm encouraged by some recent developments here in Indiana.
There are multiple efforts at the Statehouse to provide grants and employer tax credits to help Hoosier adults with only high school degrees earn credentials in high-demand, high-wage fields.
Another effort that shows promise is Ascend Indiana, the latest initiative launched by the Central Indiana Corporate Partnership.
Ascend is a vehicle to squarely attack the issue of income inequality. Its model is for employers to pay it a fee to find mid- to high-skill people for job openings. Ascend plans to find such folks in two ways: via in-person recruitment at colleges, and by matching adults who don't have the skills employers want with various existing training programs, such as College for America and Western Governors University.
Too many workforce development programs haven't delivered much bang for the buck. Ascend hopes its model is sustainable long term without massive grant funding and will generate better data for policymakers to identify gaps in Indiana's workforce and then build specific programs to fill them. It is about sophisticated matchmaking versus expensive guesswork.
But more than any of these initiatives, what we need is a much broader awareness of the debilitating effects of growing income inequality, and a commitment to grapple with them.
There is, of course, no magic bullet to solve the problems of income inequality, but we need a sense of urgency about the issue if we hope to maintain a cohesive society.•
__________
Peterson was mayor of Indianapolis from 2000 to 2007 and is now senior vice president of corporate affairs at Eli Lilly and Co. He is stepping down from Lilly at the end of the month to pursue other business and volunteer interests.
Please enable JavaScript to view this content.