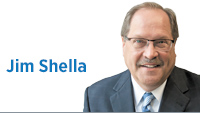 President Donald Trump isn't going to the White House Correspondents Dinner. He's staying away as part of his war on the media. He's the first president since Richard Nixon to make that choice.
Conservatives are rejoicing at his refusal to hang out with people they believe to be opponents of the Trump administration. Some media organizations, meanwhile, are pulling out of the dinner, too.
It's a big deal inside the Beltway where the dinner is known as the Nerd Prom. It's a black-tie affair that is meant to be a lighthearted celebration of the First Amendment. Making fun of the president is the order of the day.
Worth noting in that context is the fact that Trump previously attended a similar media-sponsored roast where he was the target. It happened right here in Indianapolis.
It was in February 1996 and Trump was a featured guest at the Indianapolis Press Club Gridiron Dinner, an annual event that is the closest thing in Indiana to the White House Correspondents Dinner. (Since the death of the Indianapolis Press Club, the Gridiron is now sponsored by the Indiana Fiscal Policy Institute.)
Trump came here because he was about to open a riverboat casino in Gary and he had an interest in making friends with state leaders. Also on the list to be roasted that night were three GOP primary candidates for governor and then-Gov. Frank O'Bannon.
Trump arrived early, along with his wife at the time, Marla Maples. He was a good sport and even laughed at some of the jokes aimed in his direction.
The roast was conducted by Mike McDaniel, who was then Indiana GOP chairman, and me. Mike made fun of the fact that Trump was opening a casino in what was then known as the murder capital of the country. He suggested a pair of marketing slogans: "If you make it to our boat, you're already a winner!" and "Come to Gary! No, seriously. Come to Gary!"
I made fun of Trump's hair. It doesn't seem original now, maybe, but it made some people uncomfortable then. "It's a combover," I said. "This is what Dan Coats would look like if he had a billion dollars!"
We also broke with Gridiron tradition and gave Trump an opportunity to respond to the roast. He first commented on how big the crowd was. "This is a lot of people!" he said. In fact, a normal Gridiron crowd in those days was about 800 people. Trump's appearance pushed ticket sales to more than 1,400 and the event had to be moved from the Indiana Roof Ballroom to the Indiana Convention Center.
"I remember reading the story in the New York Times," Trump joked about the news that Indiana had legalized gambling.
"And I knew immediately what I had to do," he said. "I had to find out where Indiana was!"
Of course, he already knew that, but what he couldn't know then was just how important Indiana would become to his political career.
During the dinner, Trump was seated next to Rex Early, who was running for governor in 1996. In 2016, Early became the Trump campaign chairman in Indiana and delivered a 19-point victory for the GOP.
For Trump, being the target of jokes from the media on that occasion just might have led to something more than laughter.
Click on this link to see the 1996 roast. The Trump portion is near the end.
 
Please enable JavaScript to view this content.