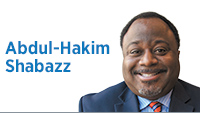 A word of warning to my Republican friends: You underestimate Democratic U.S. Sen. Joe Donnelly at your own peril.
While I agree it might seem a little early to start talking about the 2018 elections, it's only fair to point out that Donnelly won't be a pushover come next year. Here's why:
Opioid abuse and veterans suicide: We all know that no part of Indiana has been spared the impact of heroin, opioid and prescription-drug abuse. In fact, I would argue they've had even more of a devastating effect in the rural and suburban areas than in the "big city." Donnelly authored several measures that were part of the bipartisan Comprehensive Addiction and Recovery Act to help communities hit hard by the heroin and opioid epidemics get the help they need. He did the same for veterans affected by post-traumatic stress disorder. Donnelly has worked to improve access and the quality of mental health for veterans and has done it in a bipartisan way.
Trump appointments: Donnelly hasn't been an automatic no vote. In fact, a check of the record shows he voted for more Trump nominees than he voted against. He voted for Trump's nominees for Transportation, United Nations Ambassador, Homeland Security, Small Business Administration, CIA, Defense, Commerce and Veterans Affairs. Donnelly voted against Trump's nominees for Education, Treasury, Management and Budget, Health & Human Services, Attorney General and State departments. It would have been a 50-50 split had Donnelly been present for a vote on Trump's EPA pick, Scott Pruitt, but he was in East Chicago with Gov. Eric Holcomb for an emergency meeting on the lead contamination crisis hitting that city.
Now, of course, there are calls for Donnelly to come out and say whether he supports an up-or-down vote for U.S. Supreme Court nominee Neil Gorsuch. I haven't seen anything by the senator to say he would support a filibuster of Gorsuch. In fact, some of the same people who were in full support of the U.S. Senate's not taking up the nomination of Obama nominee Merrick Garland say Donnelly should make his position known on Gorsuch, even though the Judiciary Committee won't even have its first hearing until March 20. I can't blame a guy for actually wanting to have a formal hearing on a nominee before making a decision.
Constituent service: This is an area that can make or break an elected official. And while Republicans might not be crazy about Donnelly, they all respect his office's constituent-service operations. Donnelly staff members hit all 92 counties in 2016, either hosting or participating in more than 550 events in 122 cities over 223 days. They also resolved more than 2,065 cases for Hoosiers who were having problems with the federal government and got more than $2.5 million in benefits to the people who needed them. And we won't even mention Carrier Corp.
Now, while all this helps Donnelly, he is by no chance a shoe-in in 2018, as demonstrated by the 2016 results. However, neither Donald Trump nor Hillary Clinton will be on the ballot to either help or hurt the down-ballot races. And midterm elections tend to benefit the party out of power. I expect the race to be extremely competitive. My Republican friends should be well aware of that. I can assure you Donnelly is.•
Please enable JavaScript to view this content.