For more than 30 years, the Richard M. Fairbanks Foundation operated without a specific vision.

Its founder, Indianapolis businessman Richard M. Fairbanks II, who led the organization until his death in August 2000, intentionally did not set strict parameters for how funds should be spent.

He established the foundation in 1986 with a $5,000 contribution as a way to keep his estate from either going directly to his children—whom he believed could be ruined by inherited wealth—or being diminished through taxes.

The foundation grew in the 1990s as Fairbanks contributed more and sales of radio and cable properties by Fairbanks Communications prompted seven- and eight-figure gifts.

Assets neared $350 million in 2006, before the onset of the Great Recession, and now are around $290 million. For the past 10 years, the organization has annually awarded an average of $13.3 million—placing it among Indiana's 10 largest-giving foundations, according to the Los Angeles-based Grantsmanship Center.

Fairbanks identified a few key areas of interest based on his personal preferences—health, education and the "vitality of Indianapolis"—but otherwise left the direction open-ended.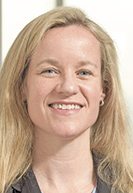 Fiddian-Green
"He knew the world he knew wasn't going to be the world down the road," said Claire Fiddian-Green, who became the foundation's CEO in early 2015.

But now the foundation is becoming more specific with what it wants to accomplish and is shifting more toward funding research that advocates for systemic change, instead of traditional grant-making. The strategy started quietly in 2016, but will be fully implemented this year.

The foundation had an open house Feb. 28 at its new downtown office in Regions Tower to reveal the new direction, and recently launched a redesigned website to be more transparent with the public and not-for-profits.

Fairbanks is also on social media for the first time, with accounts on Facebook, Twitter and LinkedIn.

"We were kind of intentionally under the radar" before, Fiddian-Green said. "It's all new for us."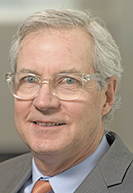 Appel
So far, the transition has gone smoothly, said Dan Appel, the foundation's chairman and the CEO of Gregory & Appel Insurance.

"I think it's just a natural evolution of an organization that is kind of finding its way and doing great work through grant-making," he said. "I would say the board is quite pleased with the road map that has been laid out and how we're following the road map."

Before joining Fairbanks, Fiddian-Green was special assistant for education innovation for then-Gov. Mike Pence. She also is co-founder of the Center for Education and Career Innovation and was founding executive director of the Indiana Charter School Board.

At Fairbanks, she immediately focused on making sure the foundation maximizes its impact on health, education and the vitality of Indianapolis.

In her first year, she met with philanthropists, not-for-profit leaders and national experts to identify the big issues in each of those priority areas and what the foundation could do to help.

"That was really figuring out what direction we wanted to head in," Fiddian-Green said.

'Staying focused'

By the start of 2016, the foundation had narrowed its focus—in health care, it would search for solutions for tobacco and opioid abuse; in education, it would zero in on K-12 and teacher preparation; and to boost the vitality of Indianapolis, it would invest in life sciences and STEM (science, technology, engineering and math) training.

The foundation is now prepared to commission research and reports, support policymakers, and provide grants for outcome-driven and goal-oriented programs. It also plans to bring together community leaders from around the state and country to share ideas and best practices.

"Our three primary goals are enormous in scope," Appel said. "Frankly, we don't have enough resources in the foundation to fix them by pure grant-making."

Fairbanks officials say they want the foundation to become known as a "thought leader."

It's an approach already followed by another prominent Indianapolis not-for-profit, the Lumina Foundation, whose mission is to make opportunities for learning beyond high school available to all.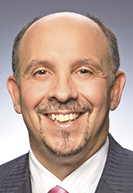 Merisotis
"I think they're staying focused on their mission," Lumina CEO Jamie Merisotis said of Fairbanks. "What Claire and the board has set out to do here is to be very deliberate… . We can leverage greater social change by being strategic."

Lumina Foundation is one of a few private foundations already focused on systemic change. Fairbanks officials say they're using that organization as an example.

Merisotis said Lumina sets specific goals, such as increasing the proportion of adults with higher-education training to 60 percent by 2025. Those goals then guide its involvement in public policy. Private foundations, like Lumina and Fairbanks, are allowed to provide educational materials and testify about research, but cannot take positions on legislation.

"Of course, grant-making is an important part of what we do," Merisotis said. "But we think grant-making is not enough."

He added: "Historically, not many private foundations were engaged in public policy. I think it's growing, but it's still not the dominant trend."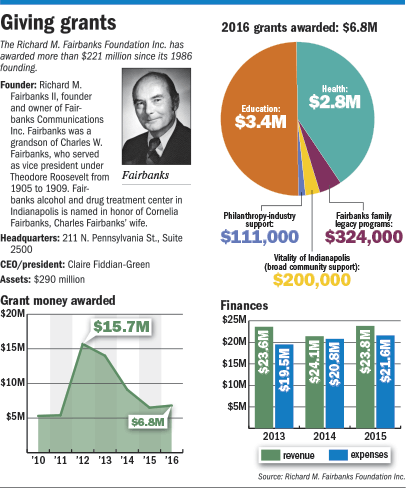 Slow start

To get the ball rolling, Fairbanks released research in September that revealed tobacco is costing the state nearly $7 billion a year in health care and lost productivity and opioid addiction is costing Hoosiers more than $1.4 billion a year.

Fairbanks also hosted a day-long summit with more than 150 attendees to talk about what's working and what's not in opioid addiction treatment.

"People seem to be overwhelmed with the problem, and they want to help, but they're not sure what action they can take," Vice President of Programs Ellen Quigley said. "It was a great starting point."

Out of the $6.8 million Fairbanks awarded in grants last year (lower than usual because of high giving in 2013-2015), $1.3 million went to advocacy or research initiatives. Fiddian-Green expects that to increase this year.

It also awarded $600,000 to WFYI-FM 90.1 to hire four employees, launch a new health news bureau, and expand its Side Effects health-related programing.

To support its new strategy, the foundation has added staff. Since Fiddian-Green came aboard, employment has grown from five to nine, and a 10th position likely will be added this year.

Lumina's Merisotis said private foundations looking to transition into policymaking, like Fairbanks, need to gradually adjust and be transparent about their goals.

For example, he said, Lumina used to focus heavily on student financing, but has since evolved into other areas of higher education.

"I think they could have a significant impact in Indy because they're targeted, and they're focused and they're working with other partners that could leverage change," Merisotis said. "I'm optimistic they could have a high level of success."

Collaboration will be key, he said. Fairbanks will need to continue to find ways to bring experts together, similar to the summit it hosted in the fall.

"A lot of times, the best way organizations learn is, they learn from each other," Merisotis said. "I think that's really, really important to be a convener."•