When IBJ introduced Gary Hentschel as part of the Class of 1996 Forty Under 40, he was about to make the transition from 15 years in commercial banking with Indiana National Bank and KeyBank to president and chief operating officer of Personnel Management Inc., a light-industrial staffing company.

"I never thought I'd be in banking that long when I started," he said, "but I thought it would be a good place to get to where I really wanted to be and get exposed to a lot of different kinds of businesses."

One of those businesses was PMI, which "had some real issues" at the time, including missing an earnings estimate. Hentschel chose PMI not because of staffing but because, "I thought it's always best to work from a burning platform," he said with a laugh. "Nowhere to go but up." And he thought he'd have autonomy to run the company.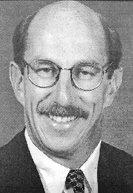 He stayed with PMI through its sale to a private-equity group in 1998, then left in 2008 after the company was sold again—this time to a larger competitor in the staffing industry. He returned to KeyBank as president and stayed for seven years before starting to look for a more entrepreneurial role in private business. He was introduced to Dick Dilling, who was looking to sell part of his interest in United Labor Group, a staffing business for people in the skilled trades. Hentschel became CEO of ULG in July 2015.

"I've been pretty lucky," he said. "I would say I've been in the right place at the right time and been fortunate enough to work with a lot of great people. If you get around good people and you can help them do well, results happen."

Click here for Hentschel's answers to IBJ's honoree questionnaire.