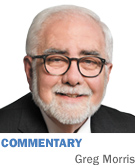 It's the start of spring, and that usually makes most people happy. When people are happy, they routinely spend more money. And that's good for business.

Yes, we had a mild winter with very little snowfall and I'm grateful for the break from the normal Indiana freeze (recent temperatures not withstanding). Even so, I believe we're all more than ready for spring. Usually, one of the first signs that spring is near is the running of the Daytona 500. When it happens in late February, it always makes me think spring break is just around the corner.

In fact, spring break starts as early as this week for some and is staggered among area school districts over the next two to three weeks. It's time to head for warmer weather if you can. The hot destinations when my family was young were mostly on the Florida Gulf Coast—St. Petersburg, Siesta Key, Sanibel Island/Fort Myers and the like. I always wondered why we drove a thousand miles in nightmare traffic to be with a lot of people we see every day at home. But that's what the kids wanted to do and it was a rite of spring!

The NCAA basketball tournament is in full swing, which is one of the best sporting events of the year. It's fun for Indy to host first-weekend tournament duties this year. Of course, the tournament would be better if Indiana University could at least make the dance, but it will be great in any case.

Don't get me started on IU men's basketball. But then, I'm spoiled, as I was attending IU in 1975 and 1976. The record for those two years was 63-1, with a perfect undefeated season and national championship in 1976—followed by national championships in 1981 and 1987. Ah, the glory years. It's been a long fall from those days. Who knows what awaits as IU searches for its next coach? For now, I'll focus my tournament attention on our other Indiana-based teams. Go Dawgs, Boilermakers and Irish.

Just as the NCAA tournament wraps up in Phoenix, attention turns to the Masters golf tournament in Augusta, Georgia. If you didn't get your clubs out when some of the Indy-area courses opened in late February, you'll need to get warmed up for this annual spring classic. As 28-year Masters broadcast veteran Jim Nantz says, "It's a tradition unlike any other."

This will be the 62nd consecutive year CBS Sports has broadcast the Masters. I'll be tuned in.

Spring means baseball spring training and season openers. Your Indianapolis Indians' season opener is April 6. Round up the family and take them out to Victory Field, one of the best minor-league ballparks in the country. Have a stadium dog and a beverage and enjoy the game.

A relatively new tradition in Indianapolis, the Indy Eleven, are ready to fire up their spring season. Support your home team and head out to Michael A. Carroll stadium and experience the passion for soccer in Indiana. The regular-season home opener is April 1. Cue the smoke!

And what happens in May? It's only the Greatest Spectacle in Racing—the Indy 500 and all the events that complement the race. Last year's 100th celebration made the race and the entire month special. But guess what? This year's event will be great, too. The Indy 500 is the highlight of spring in Indianapolis and the Memorial Day weekend. Let's keep those large crowds coming.

And always playing tough, the Indiana Fever open their WNBA season in May. Fever games are another great opportunity for a family outing. Head to Bankers Life Fieldhouse and enjoy the game. The home opener is May 20.

Another spring ritual includes springing forward and changing our clocks to daylight saving time, which we did on March 12. DST signals the start of spring; before you know it, the sun won't officially set until 9:16 p.m., and there will be enough light for outdoor activities another half hour after that. I love daylight saving time—it's good for business.

It's spring—a time of renewal. Positive thoughts are in the air. We look forward to warmer weather, green grass and trees, planting flowers, fresh mulched landscapes, long walks, cooking on the grill, taking a drive, eating outside at a restaurant, and an infinite number of outdoor activities available during the warmer-weather months.

It's a great time of year. So, make more money, spend more money and help drive that economic engine. You only get one shot at life, so get out there and make the most of it. Enjoy.•

__________

Morris is publisher of IBJ. His column appears every other week. To comment on this column, send email to gmorris@ibj.com.