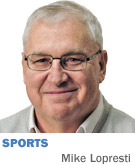 After all these years, if only Lucas Oil Stadium—and its ancestor, the RCA Dome— could talk, the stories they'd have. Well, here's a guy who can fill in.

Mike Fox walked in the door of the RCA Dome in 1984 as an intern, and ended up staying 33 years, the last 29 as director. Lucas Oil might be the house that Peyton Manning built, but it's the facility that Fox ran—through Final Fours and a Super Bowl and Wrestlemania. Fox closed his long career recently, deciding he wouldn't mind a change, and a few free weekends, and moved to West 16th Street as senior director of facilities and planning at the Indianapolis Motor Speedway.

Time, then, for some stories from a life spent in charge of the sports jewels of Indianapolis.

The best days …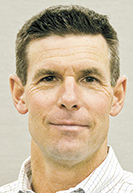 Fox
"Probably a group. The AFC conference championship when the Colts beat the Patriots. Archie Manning is down there in the southeast corner, where no one can see him, and the whole second half, he won't watch, then he will watch. Then he'll peek around the corner. Glasses on, glasses off. Hands on his knees, cussing the defense, cussing Peyton. It reminded me of watching my kids play Little League baseball. It was just a dad watching his kid play a game. At one point, I was worried about him; he was just dripping sweat. I got two bottles of water and didn't say a word to him, just handed them to him. He said, 'Hey, thank you, buddy.'" And "two weeks later, when the team came home after winning the Super Bowl."

Also, "The IHSAA basketball finals in 1990, the Damon Bailey day [41,000 showed up]." And, on a different day, "I proposed to my wife in there; I'd better say that. In the middle of the stadium—that was 1992—walked in, the place was completely empty, just the two of us. I had someone play a certain song and, 'Rhonda, will you marry me?' comes on the scoreboard. She said yes."

The worst days …

"It was bittersweet, the day they cut the power to the RCA Dome, when it was coming down. That was a hard day. There was also the Colts game that a gentleman was in our suite, and it was one of the rare days my kids were actually there. The guy died of a massive heart attack right there. Right there in front of my kids, they're trying to save him.

"We had a midget race, and one of the cars got loose and veered into the infield and killed a pit member of one of the teams. I can still remember seeing that happen, but I also remember the reaction of the drivers. They just instantly went to the stands and started signing autographs. That's just a racing thing, especially at a small track."

Craziest day …

"There was a game the Colts lost and Mr. Polian was not happy with something I had done during the game. He had me in the back hallway and was yelling at me at the top of his lungs. And in my ear is a co-worker telling me, 'Heidi is having her baby. We've got to go.' Heidi Mallin, who's been working with me for 20 years, and ended up giving birth that day to a 1-pound-13 ounce girl, who I'm glad to report is a very healthy Carmel High School student today."

The fortnight he slept in the place, or near it, anyway …

"Our first Final Four in 1991, we had the IHSAA finals the week before and I remember moving into a little hotel room that we had at the convention center. I stayed there for almost two weeks. I was only 28 at the time, and this was our first Final Four and it wasn't going to fail because of me or lack of effort. So, I just lived there. They gave us a courtesy car. Mine had 11 miles on it because I went home once and came back with fresh clothes."

Most unusual day …

"There's some concerts back in the old days … There was a hot tub with the Guns N' Roses band—I think that's all I'm going to say. Our very first concert was Bruce Springsteen, and 600 tickets—the best tickets in the house—were double-printed. So, we had 1,200 people for the 600 seats. It was not our fault, but I was out there dealing with that mess. I'm a 23-year-old kid and we had fathers and grandfathers yelling and screaming."

What he missed about the RCA Dome …

"The intimacy. It was 57,000 people, [but] you were all on top of the field. It was loud. Lucas Oil Stadium is clearly a much better stadium, but that place was, I think, a bigger home-field advantage, just because of the noise. There was a writer from Pittsburgh who accused us of piping in sound during a playoff game."

The most unusual request to use the facility …

"We had a nudist convention request years ago. Thankfully, that went away. We've had people who wanted to parachute in through the roof. We had a request—when Red Bull was doing a race at the Speedway—a guy wanted to fly his plane in through the windows and straight up through the stadium. We vetted that out and determined that was probably not the best idea. I've not had the request from someone to scatter ashes, but my guess is, it's been done without permission."

As for any visiting presidents …

"Clinton was in the air on the way to a Circle City Classic and we were told by the Secret Service that something happened in Bosnia that morning and he wasn't coming. When Reagan was there, he had already been shot in '81. By the time of his second term, security had tripled. He spoke at a cafeteria in Mooresville, and they welded shut every manhole cover between Mooresville and the stadium over his path. I actually got a chance to sit in the presidential limo, and I was looking around and started to reach under the seat, and a Secret Service man grabbed my arm and said, 'Yeah, you don't want to do that. There's some stuff under there we don't want you to touch.'"

For someone who hasn't missed a Colts game in three decades, what will Sundays feel like?

"One of the reasons I'm leaving is all the weekends. It'll be different watching the games on TV. I also think 1 o'clock on Sundays is a pretty good tee time in the fall."

And as he leaves …

"I'm not a guy who wants to be very visible. I never have been. I'm a behind-the-scenes kind of a guy. If they don't know me, that's OK. I bet I've met two or three Colts players in all the years I've been there.

"It's been a hell of a run. I'm an average guy from Richmond, Indiana, that has had every conceivable break. I'm not where I am today had not Don Rogers kept me to be the 12th man for the Richmond High School basketball team for two years in a row. If I'm not the 12th man, I'm not a student manager at Indiana. If not a manager, I'm not an intern at the stadium.

"I told my staff [his last week] that, from the top of the Pagoda, I can see the stadium. Don't forget I'm going to be watching. I'll never go very far."•

__________

Lopresti is a lifelong resident of Richmond and a graduate of Ball State University. He was a columnist for USA Today and Gannett newspapers for 31 years; he covered 34 Final Fours, 30 Super Bowls, 32 World Series and 16 Olympics. His column appears weekly. He can be reached at mlopresti@ibj.com.