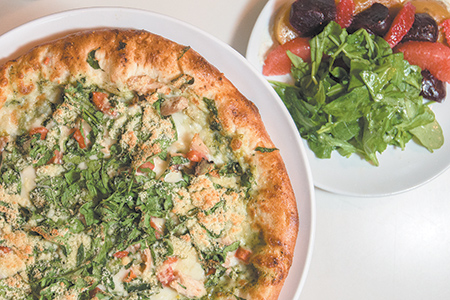 I've had many dining experiences in my life, but apart from the occasional visits to drive-up burger joints, I can't recall ever watching my food being delivered via the front door of a restaurant.
That's the case, though, with The Nook (6513 N. College Ave., 317-253-0450), an intimate new Broad Ripple pizza and wine bar. Here, instead of being delivered the traditional way—from the back of the house—the food is cooked and plated at sister restaurant Northside Social a few doors down, then hustled from there to your table.
The reasoning behind the need is that the Nook is housed in what used to be a cigar bar with no kitchen of its own. And the relatively tight quarters mean patrons must be 21 and over since the bar couldn't be sectioned off. Apart from sympathy for the wait-staff on cold days, though, there really isn't anything inherently wrong with the process. (Jury is out on what happens during snowstorms, something we didn't have to worry about this season). On our visit, the food arrived hot to our Nook table with no sign of distress from the travel and no indication of overstress on our pleasant waitress.
Our choices included the hearty Burrata Bolognese ($10), an oven-roasted sauce of tomato and sausage with focaccia to carry it, and Winter Beet Salad ($13), an attractive mix of roasted beet, blood orange, ricotta, arugula and grapefruit with a lemon-house vinaigrette. Both proved well-crafted and impressively balanced, with fresh flavors and enough substance that the pair came close to being a satisfying shared dinner.
But the pizzas are the anchor here, so a friend and I opted for two—with more than half of each boxed for a trip home for next-day lunch. "Smedium" is how our waitress playfully referred to the one available size—and that proved accurate, with each a bit bigger in diameter than most artisan personal pizzas but not quite the size of a take-out medium at most chains.
The crust has a distinct olive oil and garlic flavor, and it's substantial enough that you can pick up a wedge if you want without high risk of spillage. As to what the crusts carried, the Mean Green ($14) isn't as hostile as its title suggests. It's a delicious combination of creamy spinach sauce, smoked chicken, fresh tomato, chopped spinach and a blend of cheeses. And just enough pickled jalapeno to give a bit of bite without significantly upping the heat. The Philly ($15), with mustard-braised brisket, pepperoncini, caramelized shallots, cremini mushrooms, blended cheeses, and a mix of red and white sauce, sounds busy. But its taste is well-balanced with a convincing follow-through of flavor. In both cases, patrons shouldn't expect the toppings approach of many chain shops, where the meat dominates. In the Mean Green, the spinach is more defining than the chicken and, with the Philly, the brisket takes a back seat to the mushrooms.
Other options include Piggy Smalls ($16), including sausage, pepperoni, ham and goat cheese; Margherita-ish ($13), with the -ish referring to the pesto in the sauce; and Clam Bake ($15), with white sauce, chopped baby clams, Applewood smoked bacon and more.
If the combos don't sound appealing, the menu includes a cleverly titled If You Don't Trust Us section where a base ($10), cheese ($2), proteins ($3), vegetables ($2) and after-bake items ($2) can be combined any way you want. After our visit, though, I trust what comes out of the kitchen … and across the parking lot.•
Please enable JavaScript to view this content.