Steve Cage took the risky step of starting a quality-control business focused on the automotive industry near the peak of the Great Recession.
It was February 2009, and a similar company he sold to a venture capital firm in 2004, Product Action International, had suddenly ceased operations.
"They crashed it in five years, which is hard to believe," Cage said. "It's like riding a bike."
Cage, 64, didn't want his former employees to be out of work, so almost immediately he launched Stratosphere Quality, which inspects products and plant processes, ensures quality, and helps manufacturers eliminate defects.
He housed the company in a facility at 12024 Exit Five Parkway in Fishers that had been intended for his muscle car collection.
The first year, the company managed $8 million in revenue as Cage was able to snag former customers. The next year, revenue zoomed to $21 million.
"I'm surprised they even made $8 million in that first year … because there wasn't a lot going on," said Ron Atkinson, retired GM quality manager and former president of the American Society for Quality.
According to Atkinson, dozens, if not hundreds, of companies provide similar services and range in size from a handful of employees to thousands.
But the competition hasn't stymied Stratosphere Quality's growth. In 2016, revenue hit $122 million, and the company has swelled to more than 2,200 employees across 23 states and three countries. More than 550 of those jobs are in Indiana and 85 are in Fishers.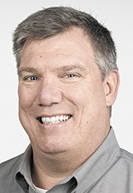 Gray
"What I'm most proud of is, we've grown this company month after month, year after year, for eight straight years," said CEO Tom Gray, who joined the company in August 2010. "And you just don't do that unless you're delivering great service."
Atkinson said the growth can be attributed to a variety of reasons, but is due in part to rapid changes in the automotive industry, including new vehicle models, new plants and new suppliers for existing cars. Stratosphere comes in when something changes.
"There are a lot of different factors that can cause an increase in demand in the services" Stratosphere provides, Atkinson said.
Cage, who serves as company chairman, expects growth to continue as car makers decrease the time between model upgrades, which means more new parts to inspect. Stratosphere Quality is also diversifying into other products such as medical devices, cosmetics and home appliances.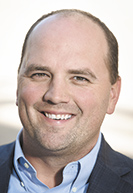 Fadness
Fishers Mayor Scott Fadness said Cage has a "great entrepreneurial spirit," and that his company and his employees are considered a big asset to the Fishers community.
"He's a pretty quiet guy. He doesn't tend to get a lot of attention," Fadness said. "But if you actually learn his business story, it's pretty incredible."
Hair on fire
The supply-inspection business is on call at all hours.
"We actually had folks working every single day last year," Gray said. "I don't know if I'm embarrassed or proud of that. I'd like to think what it means is, when our customers need us, we're there for them."
The company doesn't have employees embedded at the same plant every day, year-round, but is brought in to assist with changes that increase the probability that something could go wrong, like moving machinery within a building, launching a new vehicle model, or opening a new facility.
Atkinson said that, in a perfect world, manufacturers would have every part inspected by these outside firms, but the extra oversight comes with a cost, so it's usually focused only on parts that affect vehicle safety or something customers would visibly notice.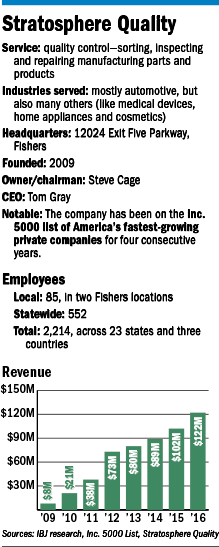 "No one likes spending money on consultants, so they'll pick and choose, and use them where they can use the most leverage," said Dave Sargent, vice president of global automotive for research firm J.D. Power.
Stratosphere Quality can also be used to identify where problems occurred and find solutions if a manufacturer receives incorrect products from a supplier.
Cage described Stratosphere as the company clients call when their hair is on fire.
"They're in trouble. They need help, and they want someone reliable," Cage said. "We're really the firetrucks that help put out the fires."
While they would not name customers—other than acknowledging that Honda has twice named Stratosphere Quality the "Maintenance, Repair and Operational Supplier of the Year"—Cage and Gray said they work with some of the biggest, well-known brands that produce some of the most expensive vehicles.
The company inspected 350 million parts last year, finding 15 million defects that were repaired or replaced.
"For all of us, it's really neat when you see one of [the cars] going down the road," Gray said. "You can point to that and say, 'We helped make that vehicle.'"
While it's not noticeable to the average car owner, Gray said, the company places indicators on every part Stratosphere Quality touches.
"It's always fun to see our green dot," Gray said.
The focus on high-quality service goes all the way down to how a Stratosphere Quality label is placed on a box once parts are inspected. The label must be aligned straight and neatly pressed onto the package.
Gray said that's because their customers, especially the ones in the decision-making roles, see only those boxes.

"So their impression of our company is based on this little sticker, and if it's haphazard, that's what they think of our company," Gray said. "If it's military precise, they think, 'Wow, if these guys care that much about putting a sticker on a box, what do they do about everything else?'"
Never-ending
While high production levels of vehicles means more parts to inspect, Stratosphere depends more heavily on automakers' model changes than on their production volume for its own sustainability.
"The first year of production of a model is typically the worst in terms of quality, and that's kind of normal," Sargent said. "Obviously, having a third party come in and provide some perspective on that to some degree is a way to make sure things don't go spectacularly wrong."
Stratosphere Quality's employees, which mostly work out of customers' manufacturing plants, are responsible for verifying that suppliers sent the correct parts and keeping the production line in motion.
"There's not a lot of tolerance for mistakes," Gray said. "We're the last gate, if you will, to prevent a quality problem from leaking out of that plant. Or from getting into that plant."
Cage said before quality inspection became a normal component of car manufacturing, production lines would shut down if a part was incorrect or damaged, which is costly to car companies.
"The impact of a single bad part can be disastrous," Gray said.
When the company launched in 2009, practically all its business was in the automotive industry, but today that's down to about 90 percent. The other 10 percent includes inspecting parts for products like washing machines, hospital beds and lawn mowers.
With the never-ending changes in the auto industry as manufacturers strive to keep up with technology and consumer preferences, Cage and Gray see a bright future.
"Our culture is such that we're never really satisfied," Gray said. "And that starts with Steve and his continued push to grow our business."
While they would not be specific about which manufacturer, Stratosphere officials say a factory is soon to open in Illinois and they expect to send more than 100 employees there. Stratosphere also recently expanded into Kansas City.
Experts agree that, even though the quality of cars has improved over the years, that won't hurt firms like Stratosphere Quality.
"There's always things that can potentially go wrong," Sargent said. "I doubt the need for these companies will ever go away."•
Please enable JavaScript to view this content.