Train, trail or both?
That's the debate local officials are having in Hamilton County—and expect to continue at a public meeting Tuesday night—as Fishers and Noblesville hope to convert the Nickel Plate railroad corridor into a 14-foot-wide greenway trail, while the Indiana Transportation Museum fights to convince the communities to build the trail adjacent to the railroad.
Last month, Fishers and Noblesville officials announced plans for a $9.3 million project that would redevelop a 9.2-mile stretch of the Nickel Plate railroad corridor into a paved pedestrian and bicycle trail between the two cities.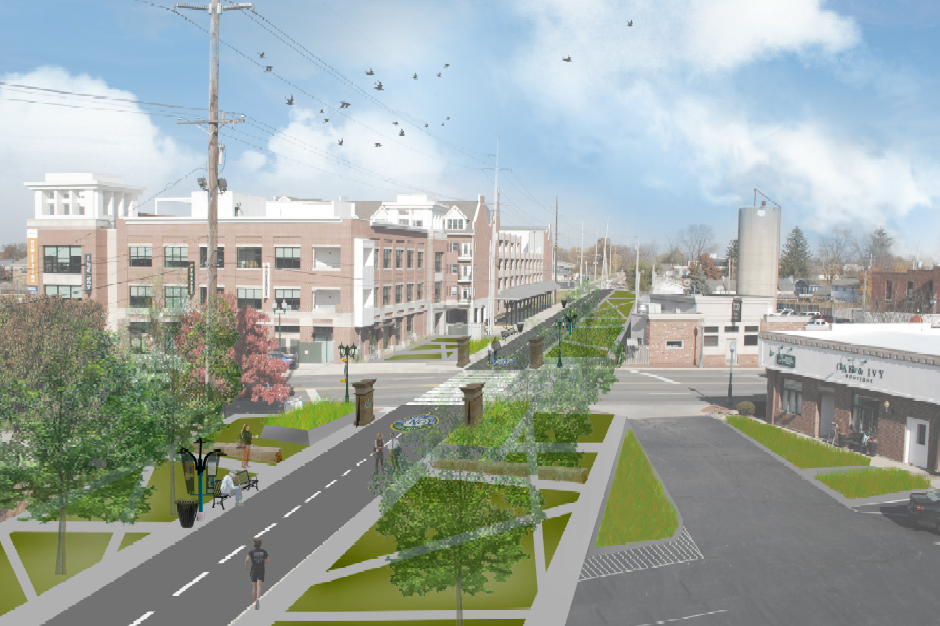 Under the plan, the Nickel Plate Trail would run from East 96th Street in Fishers to Pleasant Street in Noblesville, and would require removing the railroad tracks, which are owned and maintained by the quasi-government agency Hoosier Heritage Port Authority.
Meanwhile, the Indiana Transportation Museum says it supports the idea of adding a trail, but wants to keep the rails in place.
The museum operates the Indiana State Fair Train, which for more than 30 years carried thousands of passengers from the north side to the Indiana State Fairgrounds on East 38th Street, before it had to cease operations last year amid safety concerns.
The museum, a not-for-profit run by volunteers, has proposed a rail-with-trails concept and expressed an interest in extending the rail line into downtown Indianapolis to run trains on the weekends from the northern suburbs to Union Station.
John McNichols, treasurer for the museum, said it would cost $1.5 million to extend the railroad, which already stretches to 10th Street in Indianapolis, to Union Station. It would run alongside the CSX corridor that already travels through downtown near Bankers Life Fieldhouse and Lucas Oil Stadium.
But Fishers and Noblesville officials argue the railroad still needs significant and costly upgrades, and that there isn't sufficient right-of-way to build the trail adjacent to the railroad.
An inspection of the rail line commissioned by the Hoosier Heritage Port Authority determined that at least $3.7 million, but potentially up to $5 million, in repairs were needed before it could be operational again. Making the necessary improvements just along the line from Fishers to the  fairgrounds could cost more than $2 million, it said.
But transportation museum officials disagree with those findings. McNichols said the Federal Railroad Administration deemed the line safe as recent as June.
Fishers Mayor Scott Fadness said the cost and extent of necessary repairs can depend on specific ratings.
"Right now, I think they could technically operate the train, but it could only go five miles per hour," Fadness said. "But nobody has $5 million, and nobody has $3.7 million to fix that rail line."
He said Fishers would rather invest $4.4 million—its share of the trail costs—than pay for rail upgrades. Rail expenses would be ongoing in order to maintain the railroad, he said, and the tracks would not be used as often as a trail would be.
"It's going to be $9 million for a trail that you [could] use 365 days a year," Fadness said. "Far more than 40,000 people would be able to utilize that. From a cost-benefit perspective, it's very clear to me what the right policy decision is."
Keeping the rail line would also require purchasing additional right-of-way for the trail, according to Fadness. He said most of the rails-with-trails throughout the country have at least a 120-foot-wide strip of land. At its widest, the Nickel Plate corridor is 50 feet wide.
"We don't believe it's feasible," Fadness said about the rails-with-trails suggestion.
According to Washington, D.C.-based not-for-profit Rails to Trails Conservancy, there are more than 1,660 rails-with-trails in 41 states. But there are 10 times as many trail-only corridors on former rail lines in the United States.
McNichols said he doesn't know why the city believes it needs that much right-of-way to add the trail next to the railroad.
"There's certainly sufficient right-of-way for a trail," McNichols said. "We were kind of scratching our heads on that."
The museum has not determined what the design for both trail and rail would look like, but it conducted a study several years ago to learn how it could extend the rail corridor into downtown Indianapolis.
McNichols said that proposal has been on hold as the not-for-profit reorganized to operate more like a business. He also said delays were caused by not having a long-term operating agreement in place with the Port Authority.
"In order to really raise the funding, we need to implement the strategic plan, and we need to have a long-term operating agreement," McNicholas said. "That's really what our main donors and community folks were kind of saying."
Fadness said a long-term agreement has not been negotiated because the museum has consistently not provided documents to the Port Authority regarding engineering, budgeting and certifications.
"There's a litany of information we've never gotten from those folks," Fadness said.
A public meeting to discuss the Nickel Plate is scheduled for 6 p.m. Tuesday at Fishers City Hall. Museum officials plan to attend and offer their proposal.
More than 4,300 individuals have signed an online petition to save the Nickel Plate railroad, but Fadness said a majority of the feedback he's received about the trail-only plan has been supportive.
He said he expects a "good-sized crowd" at the meeting.
"Tonight is all about just hearing from the community," Fadness said.
Another meeting is scheduled for 6 p.m. Thursday at Noblesville City Hall.
Please enable JavaScript to view this content.