Kevin Kimbrough's career in the retail automotive industry was advancing nicely when what he calls "that whole banking debacle" hit in 2007 and "the rug was pulled out from under me." The financial collapse ended both his 23-year career and his sideline—an aviation company he had started in 1999 that worked with the U.S. Department of Defense building weapons targets.

"I was involved in industries that were dependent upon the banking industry and the government—probably the worst two industries you could be involved in," he said. "When it goes, it goes swimmingly. But when it's bad, it's really bad."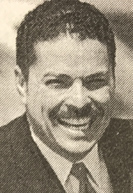 Kevin Kimbrough in 1998.
Since then, he's been nurturing his entrepreneurial nature by starting and developing a variety of small enterprises under the K.E. Kimbrough Co. banner.

His current ventures include: Cleomentary, an organization that works to mitigate poverty and homelessness by teaching life skills like eating healthy and growing food; products such as The Original Citrus Clean, a biodegradable cleaning product, and Sara's Herbs and Spices; and a film-production company called Big Bulb Films. He's also writing two books, "The Disciple," about his grandfather, community leader Cleo Blackburn, and "The 49 Habits of Highly Unsuccessful Salespeople."

Kimbrough said being named to Forty Under 40 introduced him to the Indianapolis community and created a pathway for civic involvement with various organizations, including the Indianapolis 500 Festival. He helped design a de-marshaling plan for the parade so that it ends smoothly.

He hopes Forty Under 40 will also help him accomplish his next goal—to get a math and science museum built in central Indiana.

"I don't think I would have had those same opportunities to know the real players in the community to make that kind of project happen if it wasn't for things like Forty Under 40," he said.•

—Marc D. Allan