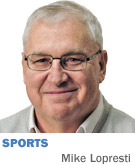 Has the white smoke gone up yet? Can the state rest easy now, free to get back to life, liberty and the pursuit of Wisconsin? Does Indiana University have itself a basketball coach?

No? Well then, there's still time to include this questionnaire that could go out to all candidates. It really should help narrow the field, addressing many of the special demands of the job.

Dear (fill in the blank, be it Billy or Tony or Dane or Archie or … ):

Thank you for inquiring about the men's basketball coaching job at Indiana University. We're one of the best, always listed right up there with the other bluebloods such as Kentucky and Kansas and North Carolina and Duke.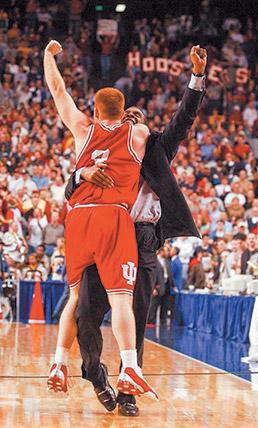 Coach Mike Davis and Tom Coverdale celebrate Indiana's 74-73 upset over No. 1 seed Duke in the NCAA Tournament South Region semifinals on March 21, 2002. (AP photo)
Of course, why we're still listed up there with Kentucky and Kansas and North Carolina and Duke is a little unclear. This has been the weekend for the Sweet 16, and in the past 24 years, Kansas and Kentucky and Duke have been to 16 of them; North Carolina, 13; Michigan State, 12. We've been to four, one fewer than Butler. But never mind that.

We require more information to complete your application, just to make sure you're our kind of guy—maybe even have a chance to be another Bob Knight and one day win national championships, be convicted in absentia, and campaign for presidential candidates. So be as honest as possible.

1. List all the people you wish were dead.

2. Just between us, what do you really think of those candy-striped warmup pants?

3. During a game, what is your preferred way of coaching?

A. Sitting down and yelling at the referees.

B. Walking back and forth in front of the bench and yelling at the referees.

C. Hurling a plastic chair at the referees.

D. Undecided. That's fine, because we've seen 'em all.

4. The last guy was a real pacer. Will you mind that there's a small, worn rut running in front of the team bench at Assembly Hall?

5. Walk to the very top row of the arena. Don't worry, defibrillators are available. Once you've stopped panting, study the court below. Explain why this is the greatest hall in college basketball, because where else can you watch a game and experience the sensation of sky-diving on the same night?

6. Will security ever have to be called to deal with your wife at Bankers Life Fieldhouse, like for the Wichita State guy?

You don't have to answer that if you are the Wichita State guy.

7. List all the places you won't play Kentucky. And "everywhere" is not an option.

8. Back to all our peers among the top programs. In the past 25 years, North Carolina has been to nine Final Fours; Kentucky, eight; Michigan State, seven; and Duke, six. We've been to one, which is one fewer than Butler. But never mind that.

Anyway, name that Indiana Final Four team.

If you can't remember that it was 2002, don't worry. Lots of people around here seem to forget that one, too. They still show replays of the night Indiana beat No. 1 Kentucky in December of the 2011-2012 season. Ten years earlier, the Hoosiers beat No. 1 Duke in March, and when's the last time that was on?

9. But while we're on trivia, answer this one: Who won more NCAA tournament games for Indiana …

A. Tom Crean his last six seasons?

B. Bob Knight his last six seasons?

C. Mike Davis his only six seasons? It's C, of course. Doesn't everyone know that? One more than Crean, who had four more than Knight, who had two fewer than Chris Holtmann has in just three seasons at Butler. But never mind that.

10. Will you solemnly swear to recruit well and not let our native sons leave the state—at least those who have good jump shots? Because one of the complaints about Tom Crean is that he didn't land enough in-staters—the kind of players who would one day make their way to Final Fours. We always used to see them in Hoosier uniforms. Like Oscar Robertson. OK, not him, maybe. Larry Bird. OK, not him, either. But champions, such as Scott May, Isiah Thomas, Quinn Buckner and Keith Smart. Oh, they weren't from Indiana? Let's just go on to the next question.

11. If you have any pull with Brad Stevens, can you get him to apply for this job?

12. Can you get us to the national championship game? It would really help our stature since we've only been to one of those in three decades. Or one fewer than Butler. But never mind that.

13. Is your name Steve Alford? No? Come to think of it, then, never mind all of the above. Your examination is over. Have a nice day.•

__________

Lopresti is a lifelong resident of Richmond and a graduate of Ball State University. He was a columnist for USA Today and Gannett newspapers for 31 years; he covered 34 Final Fours, 30 Super Bowls, 32 World Series and 16 Olympics. His column appears weekly. He can be reached at mjl5853@aol.com.