It takes guts for an outsider to enter a market where a local company dominates your specialty. But like Auntie Anne's daring to push its soft pretzels at the Philadelphia airport and Red Lobster trying to claw a share of the New England seafood market, there's no accounting for chutzpah.

And so it would seem, with the Kansas-based Freddy's Frozen Custard & Steakburgers (2740 E. 146th St., Westfield, 317-218-3304) which is franchising around the country, including here on the home turf of Steak n Shake.

The two have obvious similarities: a limited menu focusing on burger combos, a strong pull toward ice cream treats to complement the meal, retro design schemes, primarily sit-down business, and a sense that a Little League team could pour into the place any minute to celebrate a big win.

There are differences, though.

For one, Freddy's single outlet certainly feels cleaner and more refined than the average Steak n Shake. That could, in part, be because Freddy's doesn't offer table service. Instead, you order at the counter and pick up your meal when the enthusiastic person at the mic tells you it's ready. This may be an inconvenience, but it seems to cut down on dining room chaos and interruptions from wait staff.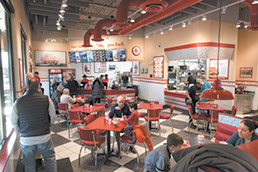 Freddy's foray into central Indiana features a bright interior and order-at-the-counter service. (IBJ photo/Eric Learned)
It also shaves tip money off the overall bill, which doesn't quite bring the prices down to the $4 Steak n Shake meals.

A Freddy's Original Double with cheese, an overly generous portion of regular fries, and a refill-it-yourself drink sets you back $7.29. Make it a single and add a hot dog and it's $7.99. On their own, sandwiches range from $2.99 for a single to $6.29 for a triple. Side choices include Fried Pickles ($2.49/$4.79) and Chili Cheese Fries ($3.99).

The uptick in prices over its rival was justified in the quality of the food, with the Grilled Chicken Breast Sandwich ($4.89 or $7.19 as a combo) and the aforementioned Single-plus-Hot-Dog combo each demonstrating a mastering of the basics for these staples. The dog was a Vienna Beef version, with enough condiment choices—including sport peppers, jalapenos, sauerkraut or 60-cents upcharge bacon—to craft it to your liking. The burger was thin but a bit more substantial than Steak n Shake, and the Onion Rings were appropriately crisp and relatively grease-free.

Custard—obligatory on your first visit—comes either as a Sundae ($3.39-$4.49) or Concrete ($3.79-$4.99). We stuck with the former on both thePBC & B—emphasizing the Reese's Peanut Butter Cup and sliced banana amid the vanilla custard, whipped cream and cherry—and the Hawaiian Delight, which included pineapple, coconut, macadamia nuts and strawberries (which I never associated with Hawaii but, yes, strawberries are actually grown there).

Of course, you want me to tell you whether I now prefer Freddy's to Steak n Shake.

To which I reply: Ask me again when there's a Freddy's across the street from my local Steak n Shake.•