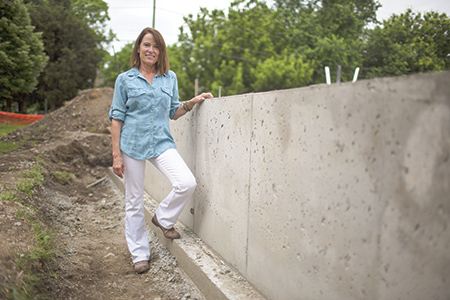 Ursula David embodies the essence of a true trailblazer, spending the past 25 years building custom homes in an industry dominated by men.
But David, who turned 65 earlier this month and is beginning to lighten her work load, has never thought of herself as a leader for other women who might follow in her footsteps.
"I was just focused on taking care of my daughter and myself; that really was my motivation," David recalled about launching her home-building business. "It was more about setting goals and moving forward. It wasn't about making any statements about being female or anything like that."
That was in 1993, when David was one of the few women in the Indianapolis area building houses. Fast forward to today and women still are vastly underrepresented within the industry.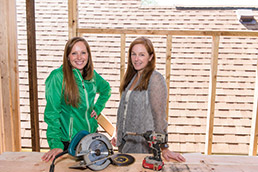 Mina Starsiak and Karen E Laine host the show "Good Bones" on HGTV. (IBJ file photo)
The Builders Association of Greater Indianapolis estimates that no more than 10 of its 150 members are women, with many of them building few homes.
On a national level, the number of women in the profession is even harder to peg.
"Unfortunately, we don't have a lot of information on this topic," a spokeswoman for the Washington, D.C.-based National Association of Homebuilders said via email. "It is actually something we have planned for this year, though, to look into."
Despite the dearth, female builders in Indianapolis are carving out a niche for themselves and carrying on the legacy David helped to create. Among them are Jen Wilkinson and mother-daughter duo Mina Starsiak and Karen E Laine of HGTV series "Good Bones" fame.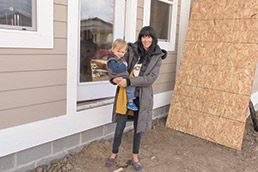 Jen Wilkinson, who has four kids, is building homes with a partner in Fountain Square and Windsor Park. (IBJ photo/Eric Learned)
Just do it
To put the generational gap into perspective, Wilkinson, 34, was born about the same time David dipped her toe into the construction field, going to work for a builder in 1983 as a job coordinator. It didn't turn out well.
"Basically, what I did was answer the phone and take care of people's issues, and then I got into scheduling," David said. "It was really a hot mess, I have to say. He ended up filing bankruptcy."
The experience proved invaluable, however, and taught her what mistakes to avoid to be successful in the building business. That builder, Stanley Klain (now deceased), regrouped in 1985 and, with David's help, started a new company that built larger but fewer houses.
David ultimately became dissatisfied and left in 1993 to hang her own shingle. The decision could have easily backfired, given the volatility of the home-building business in general, not to mention her status as a woman. But David persevered.
"I didn't really get the feeling I was being discriminated against," she said. "There were times when a lot of my [subcontractors] wanted to tell me how to do things. I would tell them, 'You don't need to understand it; you just need to do it.'"
David built custom homes mostly on the north side of Marion County and in Carmel for much of her career, before turning in 2013 to the unusual niche of providing high-end prefab houses downtown.
David formed Indy Mod Homes and purchased 10 lots in the Cottage Home Neighborhood, six of which are on the south side of East 10th Street between Highland and Stillwell streets, near Massachusetts Avenue.
She believes in the project so much that she bought one of the homes and was the first resident of the development.
David acknowledged that the perception of modular homes is that they're built quickly and cheaply. But hers are custom designed by local firm Axis Architecture + Interiors, range in size from 1,500 square feet to 2,000 square feet, and start at $300,000.
After finishing the project, David is unsure what the future will bring.
"I have absolutely no regrets," she said. "I love what I do; I've been fortunate."
Born to build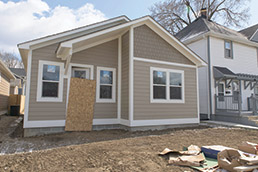 Jen Wilkinson and her partner build or remodel about 18 homes a year, many of which sell in the $400,000 range. (IBJ photo/Eric Learned)
Wilkinson, meanwhile, bought her first house to rehab just four years ago—or about the time David began building her modular homes.
The Brownsburg native attended college for a spell before earning her real estate license in 2010. Wilkinson started her career with F.C. Tucker Co. but discovered she enjoyed the design aspect of the real estate business more than the selling part.
So, she took a leap and bought a vacant home in Fountain Square, on Orange Street, for $15,000 from the Indianapolis Land Bank, now known as Renew Indianapolis.
The investment turned out to be a wise one. The home sold for $150,000, and that was before the Fountain Square neighborhood really started popping.
"Once you get the house down to the studs, you can create your own vision," said Wilkinson, who only occasionally works with an architect.
Wilkinson since has teamed with business partner Jason Blankenship to create Natural Born Builders. The partnership started about 2-1/2 years ago, after Wilkinson walked up to a job site and introduced herself to him. Blankenship, a contractor, boasted a crew of about 13 men, which now helps to build their homes and spares the two from hiring a lot of subcontractors.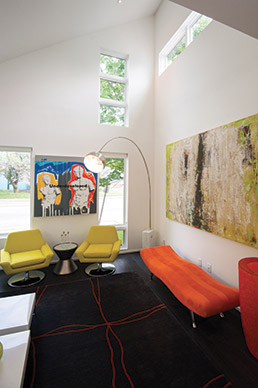 Ursula David designs pre-fabricated houses, including this one in the Cottage Home Neighborhood, through her firm Indy Mod Homes. (IBJ file photo)
In addition, Wilkinson markets the homes for sale through her work as a real estate agent at Nottingham Realty.
The pair builds or remodels about 18 homes a year, many of which sell in the $400,000 range. Wilkinson and Blankenship currently are working on three projects—two in Windsor Park east of downtown and one in Fountain Square.
Two homes are newly constructed on vacant lots (one in each neighborhood) and sold before the builders even broke ground—illustrating the rising demand both for new houses in the neighborhoods and for Wilkinson's work.
"She wants to please the customer, and she cares, and she sticks to her word," said Wendy Shapiro, who bought a home from her on Orange Street in Fountain Square.
Wilkinson, meanwhile, has enough inventory to keep her busy for two years.
"I don't see myself as a woman builder," she said. "I see myself as someone who is doing something that she loves. I have a strong personality. I've learned how to deal with contractors. I respect them and they respect me."
Stars of HGTV
The mother-daughter team of Laine and Starsiak has parlayed the respect they notched in their toolbelts into a cable television series. "Good Bones" premiered last March on HGTV and returns for a second season in May.
Laine, 56, and Starsiak, 32, landed their TV gig from their Two Chicks and a Hammer renovation company. They started it in 2010 after rehabbing an eyesore at 23rd Street and Carrolton Avenue that Starsiak bought in 2007 for $37,000. After living in it for five years, she sold it for $169,000 while pocketing some profit.
Laine, then a practicing defense attorney, and Starsiak, a waitress at the former Pizzology restaurant on Mass Ave, slowly grew their home rehab business and since have renovated dozens of homes in Fountain Square.
The two redheads caught the attention of production company High Noon Entertainment mostly by accident. A talent scout, when searching for someone else, came upon their website in 2014.
The firm interviewed the women via Skype and followed up by providing them a small flip camera to film themselves in action. HGTV bit immediately.•
Please enable JavaScript to view this content.