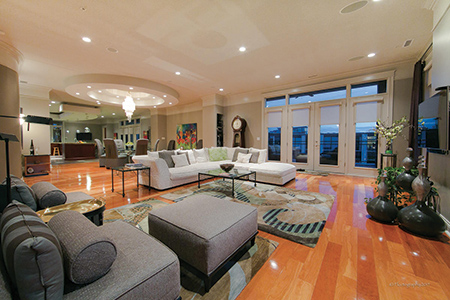 Retired interior design planner Jim O'Neil has lived everywhere, from the Indianapolis suburbs to a Brooklyn Heights apartment. So when he and his wife, Pam, decamped to downtown Indy half a dozen years ago, he wanted to find a space to make his own.
He found it in a top-floor, 5,069-square-foot condominium at 757 Massachusetts Ave., in the heart of the Mass Ave Cultural District. It was quite a change, to say the least, from the O'Neils' previous abode—a large but traditional home on 116th Street.
"I've owned farms and I've owned houses in subdivisions and I've had apartments," said O'Neil, 88. "I'm not into mowing yards and outside maintenance anymore. I'm happy to live in an apartment, park in the lower level, and ride the elevator up to my space."
And what a space it is. O'Neil investigated the location when it was still under construction and was sold by the chance to fit out the interior exactly to his tastes.
"The building was new and just being built out, so we had the ability to design it the way we wanted it," he said.
One of his first moves was to combine what was supposed to be two condos into one massive dwelling. The couple wanted a large, open, public space that was ideal for entertaining. To that end, the home's kitchen, dining area and living room are all one continuous area. It's further opened up by two covered balconies (one off the kitchen, the other adjoining the living room) and banks of windows on the east, west and south walls.
"By having designed it from raw space, we made it specifically for our lifestyle, which is an open lifestyle with friends coming and going," O'Neil said.
His favorite spot is the kitchen, with its oversized tiles on the floor and large, marble-topped bar. The space adjoins the dining area and living room, floored with cherry laminate and including a small stage. The O'Neils have kept a baby grand piano there, but it's also well-suited for musical performances, should the need arise.
"I designed this space with a stage, so friends can come and play music if they want to," O'Neil said. "We could have a party with 50 people, though that would be a lot. We've had at least 30 in here at a time."
Though the public space looks sleek and modern, one design element harks back to an earlier time—crown molding and a chair rail.
"We have crown molding, and then we drop down about 15 inches and have a little chair rail molding," O'Neil said. "We painted all of that one color, with a different color for the rest of the wall. Visually, it looks like we have a 12- to 15-inch-wide molding around the top of the living area."
While the design makes the public areas as public as possible, the home's three bedrooms and 3-1/2 baths are all cloistered away, for maximum privacy. The cherry-floored master suite features an adjoining seating area, plus a marble-intensive bathroom complete with walk-in shower, tub and double vanity. A large, window-walled space that O'Neil has used as an office is just off the kitchen.
"The office is large, so I can do any work I want to, and it's private," he said. "But my favorite space is the kitchen. Because that space is open, and there are full views out of the east, west and south sides, people tend to congregate there."
Though he's lived in pretty much every sort of accommodation known to modern man, O'Neil particularly enjoys this space. Design-wise, he feels like he nailed it.
"A lot of times people design things and then later they wish they'd done something else," he said. "Well I'm still happy with this."
Still, the penthouse has gone on the market. Listed by Flock Realty, it can be had for $1.48 million.•
Please enable JavaScript to view this content.