A local company that provides school fundraising programs for art education is constructing a $4 million headquarters building in Lawrence Village at the Fort.
Art to Remember, currently located on Macy Drive just east of Pendleton Pike, is building the 35,000-square-foot facility at East 59th Street and Lee Road on the grounds of the former Fort Benjamin Harrison. It hopes to move in early September.
The project represents a big step for the company, which currently leases its east-side space. It also supports the Fort Harrison Reuse Authority's efforts to transform the ex-Army base into a commercial and residential hub.  
Art to Remember was founded in 1995 by Don and Jane Brackney, who built the company's two-story, 25,000-square-foot office on Macy Drive about 10 years ago. Bill Boncosky bought the business from the couple in December 2011 and has been renting from them ever since.
He considered purchasing the building before opting to build at Fort Ben.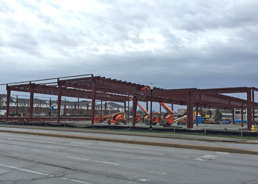 The new Art to Remember headquarters is scheduled to be ready by September. (IBJ Photo/Scott Olson)
"The business has continued to grow, and it just felt like the right opportunity to buy the building," he said. "But with the amount of work we needed to do, it didn't make sense to buy."
At 35,000 square feet, the new building will be 10,000 square feet larger than the current space and keep its operations on a single level, helping to improve efficiencies, Boncosky said.
Art to Remember helps school art programs raise money by taking student artwork and applying it to products and keepsakes such as coffee mugs, mugs, ornaments, coasters, phone cases, notecards and larger-scale prints. Schools sell the items for revenue, with a portion going to Art to Remember.
The company retains about 90 percent of the schools it works with and faces competition mostly from two large suppliers in upstate New York and the Atlanta area. It counts about 2,500 school districts as clients and will help raise about $3 million this year for their art programs, Boncosky said.
Art to Remember has seen steady annual sales growth of about 10 percent since Boncosky bought the business—partly because schools are under more pressure to cut their budgets, and art programs are among the first casualties. The company takes a piece of the money raised and gives a percentage to the school, depending upon which fundraising program they choose.
"Art teachers are really happy to work with us," Boncosky said. "It's really rewarding because we'll get a lot of notes back from them saying, 'We couldn't have done it without you,' and things like that."
Art to Remember has a core group of about 40 full-time employees. But its rolls can increase to as many as 150 seasonal workers when students return to class and schools launch into fundraising mode.
Boncosky bought Art to Remember following a law career that began at what is now the Taft Stettinius Hollister LLP. He then joined Hoosier Photo Supply as general counsel before it was sold in 2000. He took the same title at ExactTarget Inc. in 2004, staying until 2009. The digital marketing firm had become so large that Boncosky opted to return to a small law firm before buying Art to Remember.
At Lawrence Village at the Fort, Art to Remember will join a host of residential and commercial developments spanning 800 acres.
Houston-based David Weekley Homes announced March 21 that it will begin the second phase this spring of its 74-lot Residences at Lawrence Village at the Fort project.
And 18 acres at the corner of 56th Street and Lawrence Village Parkway will be ripe for development following completion of an extension of Otis Avenue from Lawrence Parkway to Lee Road.
Freddie Burrus, executive director of the Fort Harrison Reuse Authority, envisions a mix of office, retail and residential development to complement a 25,000-square-foot branch of the Indianapolis Public Library that is slated to anchor the site.
Boncosky at Art to Remember said he considered existing offices and vacant land in his search for new space. He chose the Fort Ben site to remain on the east side of the metro area, where many of the company's employees reside. Andrew Miller at CBRE helped Boncosky to find the site.
Please enable JavaScript to view this content.