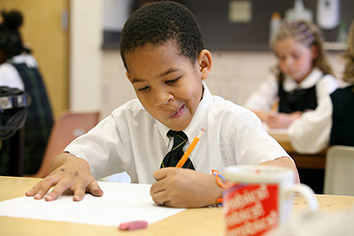 The plan to replace Indiana's unpopular ISTEP exam took another step forward Wednesday as the Senate Education Committee finished its work for the year.
The committee killed two bills and passed four, including an amended version of the bill to overhaul the state testing system. The bill passed 7-4, but some lawmakers still weren't happy with the plan—especially because the bill continues to tie teacher evaluations to state test results and removes a requirement for students to take end-of-course exams that many principals and educators had supported.
The amended bill would:
— Require high school students to take a national college entrance exam, such as the SAT or ACT, rather than end-of-course exams. The Indiana State Board of Education would choose the specific test and set a passing score needed for graduation.
— Create tests that would allow Indiana students to be compared with peers nationally.
— Allow the state to create its own test questions only if the option saves Indiana money or would be necessary to ensure the test complies with Indiana academic standards.
— Require schools to give state tests on computers or using "digital technology" unless they receive a waiver from the education department.
— Create a legislative panel to study Indiana's teacher evaluation laws and draft a final report by Nov. 1.
Some of the changes in the amendment came from state Superintendent of Public Instruction Jennifer McCormick. Earlier this month, she outlined some of those ideas for the committee, which were similar to ones pushed by former schools chief Glenda Ritz. But that still didn't make it especially popular with the committee Wednesday.
"I'm still not comfortable with where we are," said Sen. Eddie Melton, D-Merrillville.
Sen. Aaron Freeman, R-Indianapolis, and Sen. Jean Leising, R-Oldenburg, also expressed concerns about the bill, although Leising voted "yes" because the state is still required to have a test, she said.
"I'm very disappointed we can't move away from ISTEP more quickly," Leising said. "I'm most disappointed that we're still going to evaluate teachers based on ISTEP results, which nobody believes in currently."
Other education bills
Three bills passed the education committee Wednesday. All of them still must face debate by the full Senate, and likely further discussions by the House:
— Charter school renewal and closure: House Bill 1382 would make changes to how the Indiana State Board of Education handles authorizers who want to renew charters for schools that have failed for four years in a row. This proposal, as well as other changes, could benefit Indiana's struggling virtual charter schools—particularly Hoosier Academies. The bill was amended to give the state board of education more control over what education and experience charter school teachers need in order to be allowed to teach.
— High school graduation rate and student mobility: House Bill 1384 would require the Indiana State Board of Education to consider a school's rate of student turnover from year to year when it assigns A-F accountability grades.
But it was amended Wednesday to change previous language that would have given schools two A-F grades—one reflecting state test results from students who move around frequently, and one based on students who have been at the school for at least a year. The amendment removes the two grades and instead would instruct the state board to consider student mobility in the existing A-F system, and "whether any high school should be rewarded for enrolling credit-deficient students or penalized for transferring out credit-deficient students."
This bill, too, has implications for Indiana virtual schools, which have struggled to show success educating a wide range of students. The schools have complained that they often accept students who are far behind their peers and are using the school as a last-ditch chance to graduate.
— Teacher induction program: House Bill 1449, offered by Rep. Dale DeVon, R-Mishawaka, would create a program to support new teachers, principals and superintendents that would be considered a pilot until 2027.
Two other bills, both by House Education Committee Chairman Bob Behning, R-Indianapolis, died on Wednesday:
— Elementary school teacher licenses: House Bill 1383 would encourage the state board of education to establish content-area-specific licenses, including math and science, for elementary teachers. It was defeated by the committee 6-5.
— Competency-based learning: House Bill 1386 would provide grants for five schools or districts that create a "competency-based" program, which means teachers allow students to move on to more difficult subject matter once they can show they have mastered previous concepts or skills, regardless of pace. It was defeated by the committee 8-3.
Chalkbeat is a not-for-profit news site covering educational change in public schools.
Please enable JavaScript to view this content.