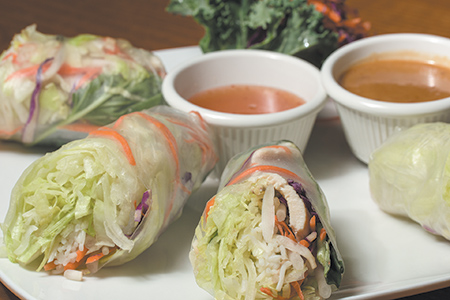 When it comes to restaurants, freshness isn't always just about ingredients.
A restaurant itself can be fresh, bringing something new to a geographic area, adding to the options rather than duplicating what's already established.
On Mass Ave, Cropichon et Bidibule tried that with its French-accented bistro, but potential patrons apparently didn't have as much of a taste for crepes as anticipated. Or maybe it was the awkward name that kept folks away.
Whatever the case, C et B's high-visibility location didn't stay empty for long. It's been replaced with Thaitanium Restaurant and Bar (735 Massachusetts Ave., 317-686-1848), another awkwardly named eatery but this one, I think, with greater staying power.
That's not just because of the quality of the food and the reasonable price point—which I'll get to in a moment—but also because of the inexplicable deficit in Asian food along the popular retail and entertainment strip. You'd think a district with this many dining items could handle more ethnic eateries than are represented.
Here's hoping Thaitanium helps change that.
The attractive spot retains the central bar of its predecessor while ditching the Eiffel Tower replica for obvious reasons. It's got an $8.99 lunch special with a choice of 17 entrees and rounds out the meal with a spring roll, soup and salad.
We stopped in for dinner, though, and still found the food substantial for the price and satisfying just about across the board.
On the appetizer lineup, Fresh Salad Roll ($6.99) wrapped vegetables and, in our case, chicken—there's also a tofu option—in a rice paper roll wrap. Served with peanut and sweet and sour sauces, the roll was delicate but not unsubstantial. A hint of mint elevated all the other flavors.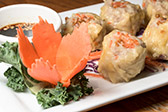 Thai Dumpling. (IBJ photo/Eric Learned)
Thai Dumpling ($7.99) should be plural on the menu since the dish included a sextet of steamed ground-pork dumplings with vegetables. Attractively presented, they made me happy I was with only one person so I didn't have to share more than half. Otherwise, I'm sure there would have been a fight.
On the entree side, Mussamun ($12.99) featured the traditional curry with coconut milk, potatoes, pineapple, carrot, onion and peanut, while Pad Kra Prow ($11.99) mixed meat, green beans, onion, bell pepper and basil in a basil sauce. As with most of the offerings, your choice of heat can affect your experience. Here, they range from mild to Thai hot. We found medium hot a comfortable choice. In all the dishes, the sweetness was never syrupy and the heat was never blunt. Even with the hotter bites, I didn't feel like it was attacking me.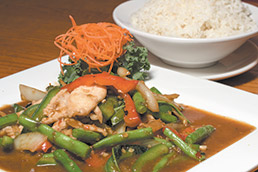 Basil sauce enhances the chicken and vegetables in Thaitanium's Pad Kra Prow. (IBJ photo/Eric Learned)
In all, the kitchen avoided going too far with any one ingredient that would overpower the others. Distinct flavors were present and the dishes were not homogenous. Every ingredient seemed to make an appearance in what I was tasting.
Our only disappointment was the Sweet Sticky Rice with Thai Custard Pudding ($4.95), which proved forgettable even as we were eating it. The sticky rice needs a sweet counterpoint that in-season mango—an option not available on our visit—might provide.•
—Lou Harry
 
Please enable JavaScript to view this content.