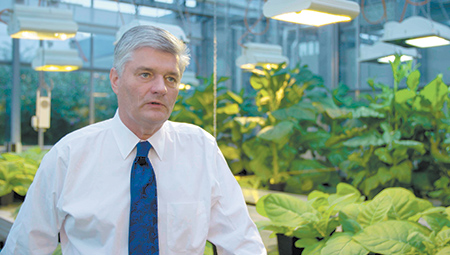 Rainer Fischer is no fan of airports or long miles in the sky.
For nearly 20 years, as senior executive director of the Fraunhofer Institute for Molecular Biology and Applied Ecology in Germany, Fischer racked up countless miles traveling to clients worldwide to help them develop new technologies and products, from pharmaceuticals to crop insecticides.
"I always had to travel, literally millions of miles around the globe, to go to customers," he said.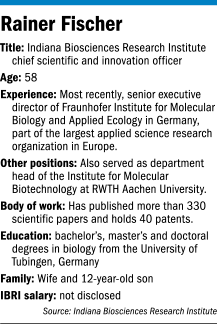 The trips paid off as he established collaborations with universities and companies in more than 25 countries, and raised almost 1 billion euros in research funding.
But all that time in airports got old. Now, Fischer's trips will be much shorter—mostly confined to a short drive around Indiana.
This month, the 58-year-old starts his new job as chief scientific and innovation officer for the Indiana Biosciences Research Institute, a 4-year-old operation just getting started on a big mission: to bridge the gap between the state's research universities and life sciences companies.
The goal is to have the two groups collaborate more closely and commercialize more of the research taking place in laboratories around the state, from plant seeds to cancer drugs.
But rather than getting on a plane every few weeks, Fischer can now hop in a car and drive to Bloomington or South Bend or West Lafayette. And many of the partners, including Eli Lilly and Co. and Dow AgroSciences, both based in Indianapolis, are even closer.
The proximity will not only cut down on Fischer's travel fatigue, but could mean more collaboration for Indiana's $62 billion life sciences industry. That's because proximity can make a big difference in working together and getting results, Fischer said.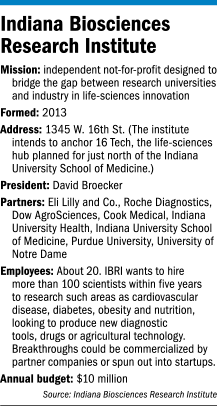 "Most of the key customers are within a five- or 10-mile radius," he pointed out. "This can accelerate the process and make things much easier in terms of setting up joint activities, projects, maybe spinning off joint companies in the future."
So far, IBRI has run at fairly low throttle, focusing on raising funds and building public support.
A breakthrough came last year, when it landed $80 million from the Lilly Endowment, one of the nation's largest private philanthropic foundations, and $20 million from the Eli Lilly and Company Foundation.
It had earlier raised $50 million from a powerful group of corporations and government organizations, including the state of Indiana, Eli Lilly and Co., Dow AgroSciences, Roche Diagnostics, Indiana University Health and the IU School of Medicine.
So far, the institute has about 20 employees, mostly researchers. But plans call for it to ramp up to 100 researchers within five years, and perhaps double that within 10 years.
High expectations
Science and business leaders across Indiana are counting on Fischer to help deliver the same kind of results here he did in Europe.
Fischer will oversee research, hire scientists and set the tone for collaboration with industry.
"He's a strategic thinker and a builder," said Bill Stephan, an IBRE board member and vice president of engagement at Indiana University. "We have a lot of life science assets in Indiana, and execution and collaboration are the keys to making big things happen."
David Johnson, CEO of BioCrossroads, which aims to expand the state's life sciences sector, called Fischer "exactly the right person" to become the institute's scientific leader.
"What we were looking for was a gifted academic leader who did wonderful research, was pretty entrepreneurial and from time to time would throw off a new patent or maybe a company, and could help others come together and do big things."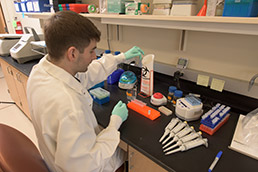 Morgan Robertson is among about 20 employees working at IBRI's West 16th Street offices. (IBJ photo/Eric Learned)
Fischer's resume seems to fit that bill perfectly. He holds a doctorate in biology, and has published more than 330 scientific papers. He holds 40 patents and co-founded five biotechnology startups.
For nearly two decades, he worked for the Fraunhofer Institute, a massive research organization based in Munich that has 67 research institutes spread across Germany, each focusing on a particular area, such as laser technology, wind energy, computer graphics and factory automation.
His role was top scientist at the organization's molecular biology and applied ecology institute, which specialized in applied research into pharmaceuticals, plant technology, genomics, immunotherapy and other hot topics.
Fischer boosted the institute from 40 to 680 employees. Working with industry, his team served up some eye-catching technologies. One collaboration, with tiremaker Continental AG, is exploring how dandelions can be used as an alternative source of rubber.
Another recent project is studying how antibodies can be produced by genetically modified tobacco plants to treat a wide range of diseases.
"Dr. Fischer comes from a really well-known institute with a track record, not just in academic research, but in translational research and discovery with a purpose," said Joe Trebley, CEO of Monon Bioventures, which helps scientists commercialize their research. "That seems perfectly aligned with what the IBRI is trying to do."
Fischer speaks in measured, low-key sentences, as could be expected from a research scientist. But despite his understated appearance, he seems to appreciate a light touch. In October, as keynote speaker at the BioCrossroads Life Sciences Summit in Indianapolis, he took the stage as a recording of German rock band Scorpions belted out its hit "Rock You Like a Hurricane" over the loudspeakers.
Fischer told the roomful of researchers that he had recently taken a plane ride to Brazil, and wound up meeting the band's lead guitar player, who gave him concert tickets and a backstage pass.
"It was one of the best moments of my life," he said.
Dow connection
Since 2004, Fischer has collaborated with Dow AgroSciences in Indianapolis on numerous projects, such as insect biotechnology and genome modification in plants.
Steve Webb, Dow Agro's new technology and intellectual property portfolio development leader and an IBRI board member, said he was impressed enough with Fischer's skills that he began to introduce him to other board members as a possible candidate.
"Rainer is outcome-focused, a critical thinker, and has a proven track record of partnering to deliver value—not just science, but products," Webb said in a recent email from Germany, where he was traveling for business.
Webb connected Fischer with IBRI CEO David Broecker and suggested they get to know each other.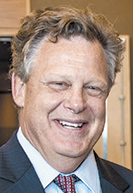 Broecker
Broecker said he was quickly impressed with Fischer's knowledge, drive and track record. But he realized it would take time to sell Fischer on moving to Indianapolis and taking the job.
"Rainer clearly knew the people at Dow Agro, and it was just a matter of getting him comfortable and introducing him to some other companies and great people here in Indiana," he said.
It took nearly two years and numerous meetings to close the deal. Broecker said he was thrilled when Fischer finally agreed.
"It took a while," he said, "but I think it's going to pay off tremendously."
The institute has set up temporary shop in the IU Biotechnology Research & Training Center at 1345 W. 16th St. The 82,000-square-foot building opened in 2003 and includes lab space for as many as 43 researchers.
But the long-term plan is more ambitious. It calls for IBRI to anchor a brand-new "innovation district" known as 16 Tech being developed just north of the IU School of Medicine.
The district also would try to attract retail, apartments and a growing cluster of life sciences organization, from midsize research labs to small support shops, such as 3D printing operations and consulting firms.
It's an ambitious goal for the fledgling IBRI.
"The vision for 16 Tech is that the IBRI would be able to attract other organizations and entities that are like-minded," Broecker said.
But Fischer cautions he does not want to grow too quickly, before he has a firm vision in place and a strategy for how to achieve it.
He plans to spend the first few months meeting with science and business leaders around Indiana to map out the best course for collaboration.
What he wants to avoid is duplicating what researchers already are doing. The key, he said, is to find ways to complement what's already here, and turn the best ideas into products.
"There's a lot of infrastructure at the research universities, as well as some of our partner companies," Fischer said. "It would be great if we can figure out ways to work together."•
Please enable JavaScript to view this content.