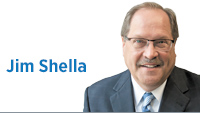 The 2018 Indiana race for U.S. Senate is already underway. Democrat Joe Donnelly is up for re-election and is currently the focus of television ads meant to both target him and support President Donald Trump.
Donnelly will defend a seat he won because of a Republican family feud. Richard Mourdock took out Richard Lugar in the 2012 GOP primary and then ran a campaign that most independents and many in the GOP could not support.
And now we can all jockey for ringside seats as we prepare for another Republican family feud. There is good reason to expect that both U.S. Reps. Todd Rokita and Luke Messer will enter the race.
For GOP leaders, that's a headache. Two incumbent congressmen will battle in a primary that will put one of them out of office and potentially split the party.
A GOP optimist will suggest that it doesn't have to be divisive. As the Capitol Hill publication Roll Call recently pointed out, "… it's their lack of clear ideological differences that could make a Messer-Rokita matchup even more interesting, bringing into stark contrast personal and stylistic contrasts … ."
So, let's talk contrasts. Messer so far has been straightforward about his intentions. In fact, he may well make a formal announcement of candidacy before this is printed. He recently named a 47-member statewide fundraising committee and announced it publicly in a move that was clearly a message to Rokita.
(Much is being made on social media that Messer and Rokita are both graduates of Wabash College and the Messer fundraising list included the name of Bob Grand, the most influential Wabash grad in GOP politics. Maybe you saw him on the platform at the Trump inauguration.)
Rokita, by contrast, has created a Twitter account and a Facebook page titled Draft Rokita. Sure, maybe some well-meaning supporter did that for him—wink, wink. Either way, it's a little too cute from my perspective.
Back to that Messer fundraising list, the name at the top of it is Greg Pence, brother of the vice president.
There are other differences. Rokita has been suggesting to GOP Lincoln Day crowds that Messer might have a residency problem because he moved his family to the Washington area. Residency questions took down Evan Bayh in 2016 as well as Dick Lugar, but I would suggest that, in those two Senate races, the questions simply supported an existing view that Lugar and Bayh were out of touch with the folks back home.
Messer is following a strategy Mike Pence employed, and appears to know his way back to Shelbyville.
Rokita has his own problems. There has been rapid turnover on his congressional staff, particularly in the communications office.
And you may remember that he withdrew his candidacy for re-election last year to seek the GOP nomination for governor. He came in a poor third in the caucus conducted by the Republican State Committee.
By contrast, Messer was considered for a cabinet post in the Trump administration and is currently in the number five leadership position in the Republican caucus. That should help with D.C. fundraising.
It means Messer should be viewed as the favorite in the GOP primary.
Meanwhile, if those ads supporting Trump fail and he continues to perform poorly in the polls, the president could become the key factor in the race and Donnelly might not have to worry about any of this.•
__________
Shella hosted WFYI's Indiana Week in Review for 25 years and covered Indiana politics for WISH-TV for more than three decades. Send comments to ibjedit@ibj.com.
Please enable JavaScript to view this content.