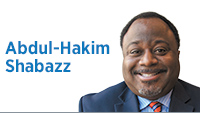 As much grief as I give the president's most hardcore supporters, I have to give them credit for their ability to engage in self-sacrifice, especially when it comes to the federal budget.
The president ran, like most presidents do, on getting the federal budget under control. I was interested in how he was going to accomplish that given that 70 percent of the budget is mandatory spending and interest on the debt.
I was looking for major entitlement reform with Social Security and Medicare, but I didn't see any. And the national Republicans' attempt to repeal and replace the Affordable Care Act signaled to me they can be just as unorganized as their Democratic counterparts. So, because none of that was on the table, I went looking at more specific programs the president was going to address, and lo and behold, it's the people who voted for him who are bearing the brunt of the sacrifice.
Please note: I base this analysis on the general demographics of the "typical" Trump voter. Generally speaking, that individual is white, male, older, working-class income and tends to be less educated than the overall population. Yes, I know that is not all Trump supporters, nor does that breakdown include people who voted for him because they couldn't stand Hillary Clinton. I know because I was one of those and, apart from the male category, I don't fall into the category of a "typical" Trump supporter. So, with that said, let's take a look at a few of the cuts.
The president is cutting $119 million from the Appalachian Regional Commission, an agency that focuses on economic growth in 420 counties in Appalachia. If you've ever been there, you immediately discover two things. First, these folks were not Clinton supporters and, second, they can use the economic development.
Here's another: $498 million is being cut from a water and wastewater loan and grant program that helps spur economic development when it comes to rural water infrastructure. The administration says rural communities can be better served, in part, with private investment. I don't know if Mr. Trump has been to rural America lately, but there ain't a whole lot of private investment going on.
The president also wants to cut $3.4 billion from the Low-Income Home Energy Assistance Program, otherwise known as LIHEAP. It helps elderly and low-income people pay their heating and power bills. How much you want to bet a lot of those folks voted for Trump?
Also on the chopping block is the Senior Community Service Employment Program. About $434 million is being cut from the job-training program for low-income people 55 and older. Once again, Trump supporters are taking it for the team. And don't get me started on Pell Grants, the Delta Regional Authority, Legal Services Corp. and the Abandoned Mine Land Grants.
Now, yes, there are lots of other programs on the chopping block that don't directly affect the "typical" Trump voter. But when you do the math, the president's total budget cuts at first seem to total $54 billion—which, by the way, offset a $54 billion increase in defense spending. So, nothing is being cut and government spending, in the grand scheme of things, isn't getting under control.
I'm not completely sure that's what the die-hard Trump supporters were voting for.•
__________
Shabazz is an attorney, radio talk show host and political commentator, college professor and stand-up comedian. Send comments to [email protected]
Please enable JavaScript to view this content.