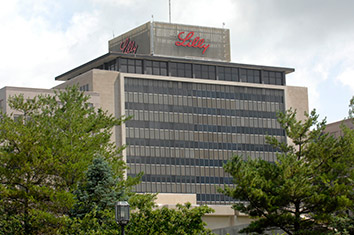 The financial fallout is growing as the sexual harassment scandal at Fox News spreads, with Indianapolis-based pharmaceutical giant Elil Lilly and Co. among the firms pulling their advertising from "The O'Reilly Factor."
At least five automakers—Mitsubishi Motors Corp., Hyundai Motor Co., BMW of North America, Jaguar Land Rover North America and Mercedes-Benz—have said they're dropping advertising from the top-rated Fox News show because of allegations leveled against its host, Bill O'Reilly. Drugmakers Lilly, GlaxoSmithKline Plc, Bayer AG and Sanofi also removed their commercials from the program.
"In light of the serious nature of the accusations made against Bill O'Reilly, I can confirm that Eli Lilly and Company has suspended its advertising on 'The O'Reilly Factor,'" Lilly spokesman Greg Keuterman told IBJ on Wednesday afternoon.
Indianapolis-based Angie's List Inc. is among the companies that have opted to stick with the show.
Fox News said it's redirecting the ad purchases of clients who wish to avoid O'Reilly's show to other programs on the network.
"We value our partners and are working with them to address their current concerns about 'The O'Reilly Factor,'" Paul Rittenberg, executive vice president of ad sales at Fox News, said in a statement.
The growing defections show that the scrutiny of Fox News is beginning to have an impact on the business. Until now, the most-watched cable news network has shown little ill effect despite months of negative headlines from the scandal that erupted around Roger Ailes, the former president of the network, leading to his departure in July. Now allegations are coming to light against O'Reilly, showing that issues of harassment at Fox may not have been limited only to Ailes.
"The allegations are disturbing and, given the importance of women in every aspect of our business, we don't feel this is a good environment in which to advertise our products right now," Mercedes, a unit of Daimler AG, said Monday in a statement.
The New York Times reported over the weekend that five women have received payments from either 21st Century Fox or from O'Reilly in exchange for agreeing not to sue or talk about their allegations that O'Reilly verbally abused them, subjected them to unwanted advances or made lewd comments.
Fox has stood by O'Reilly, who has said he is a target for such allegations because of his prominence.
"21st Century Fox takes matters of workplace behavior very seriously," a company spokesman said in a statement last weekend. "Notwithstanding the fact that no current or former Fox News employee ever took advantage of the 21st Century Fox hotline to raise a concern about Bill O'Reilly, even anonymously, we have looked into these matters over the last few months and discussed them with Mr. O'Reilly."
O'Reilly's job probably isn't in jeopardy yet, said Paul Sweeney, an analyst at Bloomberg Intelligence.
"He's just too valuable," he said. "But if there's one thing that puts any talent at risk it's advertisers. If advertisers boycott you, you're going to be in a tenuous situation."
While the host has the most popular show on Fox News, it's just one program produced by a giant media company that includes the 20th Century Fox movie studio and channels like FX, National Geographic and Fox Sports 1. That means 21st Century Fox, the parent, is unlikely to take much of a financial hit from the advertisers defections — unless brands stop buying commercials on other Fox programming as well, Sweeney said.
Fox recently extended O'Reilly's contract, which was expiring this year, the Times reported, citing people familiar with the deal. The company was aware of multiple legal settlements with women who had complained about O'Reilly's behavior, and it designed the contract to include more leverage over his behavior, the newspaper said. O'Reilly earns about $18 million a year, the Times said.
Angie's List, the consumer-review website, said it has no plans to pull its ads from "The O'Reilly Factor."
"We place ads across a wide spectrum of venues intending to reach as many viewers/listeners/readers as possible without taking a position on the viewpoints of the venues themselves," the Indianapolis-based company said in an email. "Just as we trust members to make their own hiring decisions, we trust them to make their own media consumption decisions."
So far, companies outside the U.S. have been faster to pull their ads. Fox News isn't a major presence overseas, but it's widely influential in U.S. politics and a favorite of Donald Trump, who granted one of his first interviews as president to O'Reilly.
Other companies headquartered in the U.S., such as Carlsbad, California-based Jenny Craig Inc., either didn't respond to requests for comment or broadly voiced their opposition to sexual harassment without saying whether they would continue advertising.
"As a matter of corporate policy, we do not publicly comment on our advertising strategy," Jenny Craig said. "We are constantly evaluating our media buys to maximize the efficiency of our corporate investment and effectively reach our target audience."
Expedia Inc., the online travel company, said it was still deciding what to do.
"We regularly evaluate all of our media buying as we are doing now with regard to this program," the company said.
Please enable JavaScript to view this content.