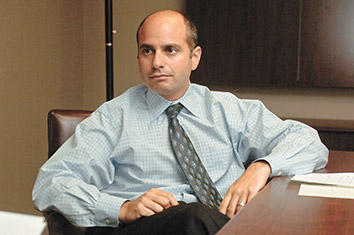 Former Marion County Prosecutor Carl Brizzi has been suspended from the practice of law in Indiana for 30 days after the Indiana Supreme Court Disciplinary Commission found he violated prohibitions against representing a client in a case in which he had a personal interest.
After previously being cleared from disciplinary charges related to a failure to disclose financial interests, Brizzi was charged with additional disciplinary violations related to a 2009 drug case.
In that case, former criminal defense attorney Paul Page, with whom Brizzi had a business relationship, was representing a person facing drug charges in Marion County, including a Class B felony, the highest charge. Page worked out a plea agreement with Brizzi's deputies calling for the client to plead guilty to a Class C felony and forfeit $17,550 in cash.
However, when Page brought the issue directly to Brizzi, the prosecutor instructed the deputies to allow the client to plead guilty to a Class D felony, with eligibility for alternate misdemeanor sentencing, and to return a portion of the seized cash.
"Intervention of this nature was highly unusual; the chief deputy indicated he had never previously been given such an instruction by Respondent in a narcotics case, and both deputies knew of no reason to reduce the lead charge to a Class D felony or to return any of the seized funds, as they felt the case against (the client) was very strong," Chief Justice Loretta Rush wrote in a Wednesday disciplinary order.
Based on that situation, the disciplinary commission charged Brizzi with violating Professional Conduct Rule 1.7(a)(2), which prohibits representing a client if "there is a significant risk that the representation … will be materially limited by … a personal interest of the lawyer."
Brizzi then told the commission that his deputies had offered the client a Class D felony plea agreement prior to his involvement, so the commission charged him with a violation of Rule 8.4(c) for making a knowingly false statement. The hearing officer in Brizzi's case agreed with the first charge, but found insufficient evidence to support the knowingly false statement accusation.
The hearing officer recommended a 30-day suspension for Brizzi, and the Indiana Supreme Court, excluding Justice Mark Massa, who did not participate, agreed. Thus, Brizzi will be suspended for 30 days effective May 1 with automatic reinstatement, provided there are no other suspensions in effect. The costs of the proceeding were also assessed against him.
The state's high court has previously disciplined Brizzi, imposing a public reprimand against him five years ago for statements he made about a high-profile murder case. Additionally, in 2010, Massa, who was a Republican candidate for prosecutor at the time, called on Brizzi to resign.
Brizzi, who served as prosecutor from 2002 until 2010, has seen his share of controversy over the past decade.
In 2013, he escaped prosecution after a three-year federal investigation into an unusual real estate deal in Elkhart unraveled.
Brizzi unsuccessfully represented former Indiana Secretary of State Charlie White during White's 2012 voter fraud trial. White later raised questions about Brizzi's health and sued him for legal malpractice.
In 2011, Brizzi agreed to pay Fair Finance Co.'s bankruptcy trustee $195,881—by far the largest settlement with a politician who received campaign contributions from the company's CEO, indicted Indianapolis Ponzi schemer Tim Durham.
In 2010, the Indianapolis Metropolitan Police Department opened an investigation into the circumstances surrounding an officer's injury at a 2008 fundraiser for Brizzi. Detective Steven Buchanan, a member of Brizzi's security detail, wound up with a broken wrist and bruised knee after a golf cart carrying him and Brizzi flipped at the Ironwood Golf Club.
Please enable JavaScript to view this content.