Carolyn Coleman was working as an attorney with Baker & Daniels in late 1999 when a member of newly elected Mayor Bart Peterson's transition team asked for a meeting to talk about her interest in the public sector.

"I thought, 'Well, that's interesting,' because up to that point I had not expressed one," Coleman said.

But she knew enough to know "that if the newly elected mayor of the city of Indianapolis reached out to you, that it would be a good idea to meet with him. Or her."

By January 2000, Coleman was walking into city hall.

She's been focused on those issues and working at the service of local government and local government officials ever since.

After five years with the city, Coleman went back to Baker & Daniels, this time to work in its city practice in Washington, D.C. She used that opportunity to build on what she had learned in the Mayor's Office and in working with local governments in various cities around the country.

A year and a half later, she joined the National League of Cities, where she served as legislative director for 10 years.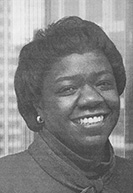 Carolyn Coleman

In that role, she had worked with the California League of Cities. When the director there decided to retire, Coleman thought "it was a good time in my life and my career to make the next move."

She's been in Sacramento since December.

Her focus now is on the California Legislature, where lawmakers are spending a lot of time talking about what's happening in Washington.

Coleman said what she learned in Indianapolis gave her the foundation she still uses in her work.

"Indianapolis," she said, "has a great reputation for civic and business leadership coming together to address challenges and to solve problems in creative and innovative ways."•

—Marc D. Allan