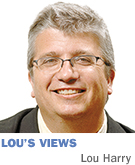 Don't be surprised if you hear more conversations about potting mix than Picasso on your next visit to the Indianapolis Museum of Art.
With its "Spring Blooms" flower show outside supplemented by the more traditional but lower-profiled exhibitions focusing on birds, you might question the very nature of the IMA.
Patrons have said they like art, "but we want to do other things, too," said Charles Venable, the IMA's director and CEO at a recent event.
Stressing the "and nature" part of the IMA's revised mission statement, Venable has taken the substantial acreage beyond the main building and put it to more varied uses while giving it a greater spotlight.
For "Spring Blooms" (through May 30), the IMA boasts over 250,000 blooms, although it would take a frequent visitor/hardcore horticulturalist to know which have long been part
of the landscape and which have been added for the show. Signage leads you from the museum along a 0.9-mile path covering much of the upper campus.
Given the size of the campus, it's unrealistic to expect an awe-inspiring transformation—this isn't a Rose Bowl Parade float, after all; it's 52 acres of grounds. Your experience will be dependent on the brightness of the day. (Warning: Parts of the path can be squishy after rain.) But the "concentrations of color" add to an already beautiful campus, and additional attention focused on the Greenhouse—which no longer does retail—is always a plus given the variety of plant life therein. The temporary adjacent beer garden offers a trio of beers (including a Sun King original), Triton root beer and snacks Thursday through Sunday.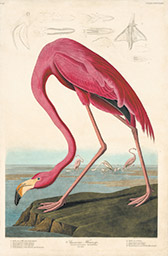 John J. Audubon made a career of artis-tically documenting the birds of North America. This work and his process are highlighted in a new IMA exhibit. (Image courtesy Joel Oppenheimer, Inc.)
Inside, at "Audubon: Drawn to Nature" (through July 30), I wasn't expecting much more than a walk through the familiar. After all, John J. Audubon's bird drawings have been staple images for nearly two centuries.
But I quickly found myself caught up in the artist's story, his process, his methods of getting his work to the public, and to the often-life-size works themselves. An immersive projection gallery about halfway through offers an interesting respite.
The bird watching continues in a solo show by Paula McCartney (through Oct. 8). Here the spoofing is so subtle that I found myself pointing out to a guard how the birds in her landscape photographs were props placed by the artist into natural surroundings. A few such works might have been amusing and thought-provoking. The roomful came across as redundant.
Also in the IMA mix: "The Birds of Celeste Boursier-Mougenot," a short film by Ariane Michel in which the title artist/composer created an aviary that included electric guitars, basses and amplifiers. Zebra Finches then were set loose to pluck and peck.•
__________
This column appears weekly. Send information on upcoming arts and entertainment events to lharry@ibj.com.
Please enable JavaScript to view this content.