In the latest sign of consolidation sweeping the health care industry, Indiana's largest independent physician group has agreed to be acquired by the nation's largest health insurer for $184 million.
American Health Network, a 300-doctor practice based in Carmel, confirmed to IBJ that it plans to sell 80 percent of its ownership to suburban Minneapolis-based UnitedHealth Group.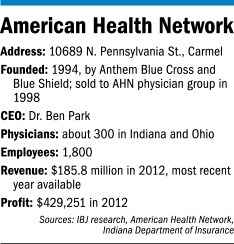 The transaction would remove local ownership of one of the last remaining large, independent physician groups in Indiana. AHN, with 1,800 employees, operates dozens of practices across the state, from Kokomo to New Albany, along with locations in central Ohio.
The combination also would mark the latest ownership twist for the company, which was formed in 1994 by Indianapolis-based insurer Anthem Inc. as it was pushing to control health care costs by building its own network of providers.
But the operation racked up millions of dollars in losses in the early years, and Anthem sold the company in 1998 to the network's doctors.
Now, in an ironic turn, the company Anthem created would be acquired by its biggest competitor. UnitedHealth is by far the nation's largest health insurer, with revenue last year of $184.8 billion. That's more than double the size of Anthem, which rang up revenue last year of $84.9 billion.
The deal, in the works for months, still needs approval from the Indiana Department of Insurance. That's because AHN is organized as a health maintenance organization, although it has not offered HMO products or services since 2002, according to a company filing with the state.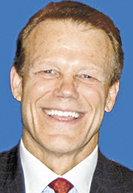 Park
If Indiana regulators approve the acquisition, American Health Network would become part of UnitedHealth's fast-growing OptumCare division, which has 21,000 physicians in 28 markets, and is on pace to expand by up to six new markets a year.
Dr. Ben Park, CEO of American Health Network, said his company's board has been examining options for two years.
"What we saw was that, increasingly, scale was important," Park said. "Over the years, I've become acquainted with medical groups all over the United States. And some of the best groups in the country were joining Optum."
The Optum empire includes a huge array of medical products and services. In addition to physician groups, it includes home health care services, urgent care centers, surgical centers and data analytics on such things as when to perform organ transplants.
"It's just the kind of resources and transformative services that you can't possibly develop on your own," Park said.
Under the deal, AHN would keep its Carmel office, which would become the Midwest operating center for Optum, Park said. Optum would use AHN to expand into neighboring states.
Unlike many buyouts, Park said, this one will not result in job losses. "The workforce is going to grow," he said. "We're looking to double our size over the next four years."
Optum will pick up more than 90 percent of AHN's doctors, Park said. A "few doctors with special circumstances" have decided to move their practices to local hospital systems, including Indiana University Health and Hendricks Regional Hospital, he added.
The sale would end nearly two decades as a stand-alone operation for AHN, which built a reputation as a proud, independent player in an age of rapid consolidation.
The company started as a subsidiary of Anthem—then known as Associated Group—as a bold experiment during the height of the Clinton health care reform. The insurer wanted to reduce health care costs and deliver savings to its bottom line by implementing so-called managed-care techniques.
The strategy was to have primary care physicians function as "care coordinators" to prevent unnecessary costs and integrate primary care with other health services. The end game was to spin off the subsidiary as a publicly held, multistate health care delivery system.
Associated began contacting hundreds of primary care physicians across Indiana, with a goal of signing up 250 doctors in central Indiana and dozens of others in at least four other markets.
Other the years, AHN added physicians with numerous specialties, from dermatology to oncology. As it added practices, it bought the assets and employed the doctors, who took an ownership stake in the network.
The arrangement allowed doctors to continue managing their practices, but reduced their overhead and gave them access to additional resources such as labs and ultrasound equipment just as they were feeling financial pressure from insurers' decreasing reimbursements. While small practices had little leverage to fight back, American Health was growing, and boosting its negotiating clout.
But the investment of millions of dollars was slow to pay off. By 1998, its fourth year in operation, AHN had racked up losses of $24.5 million. Associated, by then called Anthem, decided to cut it loose.
"It was not an overall financial disaster for Anthem," Park told IBJ in 1998. "It was an investment that they made in changing the way care is delivered."
The network's physicians purchased AHN for an undisclosed price, hoping they could turn things around.
In recent years, the operation's financial picture has swung back and forth. It recorded a loss of $825,000 in 2010, followed by profits of $1.6 million in 2011 and $429,000 in 2012, according to the most recent filings available from the Insurance Department.
Revenue was $185.8 million in 2012. In an interview, Park declined to disclose revenue or profit for last year.
"We've been profitable and doing well," he said. "But as we look to the future, we know that we would have to invest more and more in the kinds of services that Optum already owns."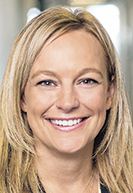 Walker
Some analysts call Optum a huge success for UnitedHealth Group. Cantor Fitzgerald analyst Steven Halper called the parent company "unique" among insurers, given its innovative, fast-growing Optum segment accounted for 42 percent of operating profit last year.
"We expect continued strong growth in Optum in 2017," he wrote in a note to clients on Feb. 6, rating the stock a "buy."
Optum officials say they are planning to continue an aggressive expansion, adding 2,000 physicians a year.
"[There's] a tremendous amount of growth ahead across the OptumCare platform," the division's executive vice president, Tami Reller, told analysts in a conference call on Jan. 17.
In the face of that kind of consolidation, some observers say AHN's decision to join forces with a bigger company was predictable. It also reflects ongoing pressures in the industry, where payers continue to tighten reimbursements, and providers are looking for new models to survive.
"The fact that they've decided they can no longer be an independent, stand-alone group is not surprising," said Elizabeth Walker, an Indianapolis hospital consultant and chief strategy officer with Quorum Health Resources. "I think we are seeing our market consolidate more rapidly than any of us expected."•
Please enable JavaScript to view this content.