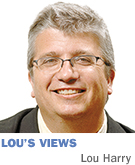 Seven years ago, on a stroll through the artist booths in a corridor of Indiana Black Expo, I was struck by images of Lauryn Hill, Bob Dylan and other music stars prominent in the work of Lobyn Hamilton.

An artist in his early 20s already adept at smartly blurring medium and message, Hamilton eschewed paint and brushes in favor of a less traditional medium for visual art—vinyl records. The former DJ drew his inspiration from smashed albums, transforming the shards—with ample white space—into remarkably vivid portraits.

Back in 2010, I wrote in IBJ: "If Hamilton's work doesn't yet transcend completely, that's because his primary sources are such familiar images, and close representation is essential to the impact. Will his work still be as effective when he goes beyond the iconic images into purely original territory? I'm looking forward to finding out."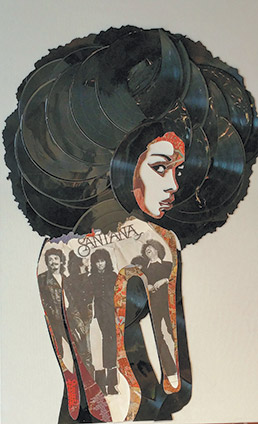 Lobyn Hamilton's artwork, including"Santana Black Magic Woman," incorporates shards of vinyl albums.
(Photo courtesy of Gallery 924)
Now, with his solo show at Gallery 924 (through April 28), that opportunity is here.

The self-titled exhibit does still contain portrait work using albums—and the face still seems to be Hamilton's fundamental point of fascination and inspiration. Here you'll find a stark, happy Barack Obama and an open-mouthed James Brown, among others.

But even among the familiar, there are now added elements.

Not satisfied to render President Trump in vinyl in "Der Donald," Hamilton uses swastikas, eagles and Hitler youth images and pairs the piece with an official Nazi guidebook. The result is confrontational and certainly more obvious than his take on Hillary Clinton in "Birthed Nation: Super Predator Super Freak," which makes use of paper with such text as "deplorable," "bigot" and "liar" filling out her face.

Most striking is an image of Malcolm X constructed from an actual disc of his speeches and rising out of a turntable. Context helps, too, with an Angela Davis portrait that incorporates a protest poster while also revealing the brick wall of the gallery through its Plexiglas.

In this show, you'll also find works that don't rely on familiar faces. "Africa Lady Blonde Edition (Colonial Spirits)" tops a no-nonsense woman's head with a depiction of the African continent constructed from the spines of record albums. (Avoid a close reading if you don't want to speculate on what Connie Francis, Herman's Hermits and Donovan are doing here).

Of most interest to pop culture fans is a work that has helped Hamilton gain his highest degree of exposure yet: a large-scale piece that has been seen on a wall in three seasons of the hit TV series "Empire."

Which makes me wonder if we will someday see a portrait of the artist himself.

In vinyl, of course.•

__________

This column appears weekly. Send information on upcoming arts and entertainment events to lharry@ibj.com.