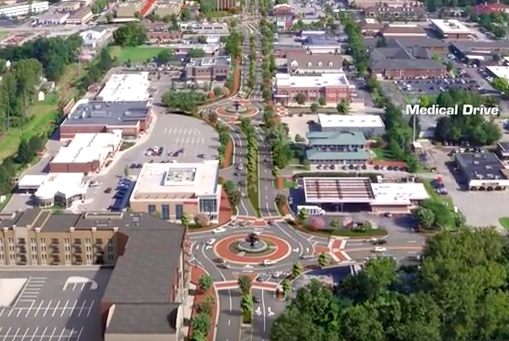 The city of Carmel on Monday morning announced a $13.4 million plan to redesign and downsize part of Rangeline Road into a two-lane boulevard that is friendlier to pedestrians.
The $13.4 million project will eliminate three of the five existing travel lanes from 116th Street to Main Street, add roundabouts at intersections, install a landscape median through the corridor and put multipurpose paths on both sides of the road. Public art will be incorporated into the landscaping.
Rangeline Road runs through the center of Carmel and intersects with City Center, Midtown and the Arts & Design District. Most of the corridor  currently consists of five lanes, with two travel lanes in each direction and a middle left-turn lane.
"What was once a pass-through area is now going to be a beautiful boulevard," Carmel Mayor Jim Brainard said.
Brainard said vehicle speeds will likely be reduced by 20 percent, but he expects traffic to flow better because the roundabouts should keep cars moving. The city is calling the plan a "road diet."
Brainard said the goal isn't to reduce traffic on the corridor, which sees 10,000 to 20,000 vehicles per day. Instead, the goal is to make the corridor more pedestrian-friendly, while still keeping traffic moving. 
According to research published by AARP, "road diets" usually work best on roadways with traffic counts of 8,000 to 20,000 per day and can result in a reduction of the number of serious crashes.
The plan calls for roundabouts at 116th Street, Medical Drive, Carmel Drive, Executive Drive, City Center Drive, Fourth Street and possibly Sixth Street. Each roundabout will be two lanes, except for the one at Fourth Street.
From Executive Drive to Main Street, Rangeline Road will be reduced to two lanes, and from 116th Street to Executive Drive, the corridor will have four lanes with two travel lanes in each direction.
On both sides of the road, an 8-foot-wide mixed-use path will be added and will include a physical barrier from the street. Brainard said the barrier will likely be some sort of landscaping.
Mid-block pedestrian crosswalks will also be added in certain areas.
The project will be funded through bonds the Carmel City Council approved in January 2016.
The city has been planning to replace traffic lights along Rangeline with roundabouts for years, and some of the work has already been completed—the roundabout at Carmel Drive opened in November.
Construction on the roundabout at Rangeline and City Center Drive is expected to start this month. Other parts of the project will get started this summer, and the entire corridor should be completed by summer 2018.
Some intersections will close for construction, but otherwise the road will remain open. The longest a closure would last is 45 days, according to city engineer Jeremy Kashman.
Please enable JavaScript to view this content.