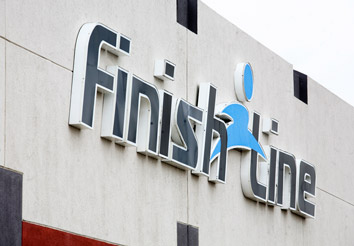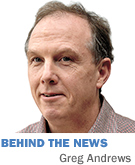 With shares of The Finish Line Inc. trading near 6-1/2-year lows, the United Kingdom's largest sportswear retailer has swooped in and bought a 7.9 percent stake.
Sports Direct International plc now controls 3.2 million Finish Line shares worth more than $47 million, according to an April 6 Securities and Exchange Commission filing. The buying spree made the British retailer the fifth-largest shareholder of Indianapolis-based Finish Line.
The purchase has created something of a buzz in retail circles, fueling speculation about Sports Direct's intentions. Would the British company—which operates 670 stores across Europe and owns such brands as Slazenger and Everlast—make a play to buy Finish Line?
Sports Direct declined to comment, and the language in the SEC filing is no help. It says almost everything is a possibility—from increasing its stake to decreasing its stake to proposing ways the struggling Indianapolis company might alter its business operations.
Finish Line spokeswoman Dianna Boyce said in an email that representatives of the athletic shoe and sports apparel retailer have read the SEC filing "and have no further comment with respect to it. Management of The Finish Line Inc., in consultation with the Board of Directors, continues to focus on executing its strategic plan and increasing value for shareholders."
Sports Direct—founded by Mike Ashley, the billionaire owner of the Newcastle United soccer club—is the larger of the two firms. Converted into U.S. dollars, it boasts revenue of $3.7 billion and a market value of $2.2 billion. In contrast, Finish Line—which hast 573 mall stores and another 374 shops inside Macy's department stores—has annual revenue of $1.8 billion and a market value of $596 million.
The British company's Finish Line position—acquired through a form of derivative known as "contract for difference" that's not available to U.S. investors—fits with the company's recent pattern of acquiring stakes in retailers that are higher-end than the bread-and-butter Sports Direct stores.
Sports Direct stores have a decidedly downscale feel, according to the Financial Times, with price tags announcing steep discounts and windows frequently papered over with handwritten signs proclaiming a "stock liquidation" is in its "last few days."
According to a story in The Financial Times last year, "their success rests on maintaining a bargain-basement appearance while persuading big brands to supply their best products—a balancing act that may be becoming harder to sustain."
A source knowledgeable about the company told The Times, "Nike and Adidas have long felt they don't get the kind of display they want in Sports Direct."
The source added: "A lot of Mike's stakebuilding has been about working with people who can help build those relationships."
Finish Line would certainly fit the bill in that regard, given its carefully cultivated relationship with all the top shoe brands. It's especially tight with Nike—from which it made 73 percent of its purchases in the fiscal year that ended February 2016.
Ashley's strategy appears to date to 2012, when Ashley acquired control of the upscale fashion retailer Flannels. In 2014, Sports Direct bought 11 percent of the department store chain House of Fraser, which was later scooped up by a Chinese conglomerate. In addition, it used contracts for difference to acquire a 10.5 percent stake in the department store chain Debenhams in 2015 and a 30 percent stake in catalog retailer Findel last year.
The Times said the transactions have irked executives at some of the target companies, who have been unable to determine Ashley's intentions. It quoted one as saying, "I don't think even he has a firm idea."
However, "people who know Mr. Ashley dismiss that suggestion," The Times wrote, "arguing that the more influence he has over coveted retail outlets, the harder it will be for big brands to cut off supplies for his discount locations."
Regardless of whether that strategy pans out, Sports Direct could make a tidy return on its Finish Line investment if the Indianapolis company's plans to bolster performance come to fruition.
Finish Line has had a rough stretch, with supply-chain problems and disappointing sales, especially in apparel, where same-store sales fell 27 percent in the latest quarter.
Wedbush Securities said in a report that the company "continues to struggle relative to the competition, and we need to see stronger signs that management can drive consistent full-priced sales."
The company says it has a solid recovery plan in place, built on improving store performance through remodelings, and capitalizing on upgrades to its online platform.
If the company can deliver, the beaten-down shares, which now trade for about $14.75, could perk up. But they have a long way to go to get back to prior levels. As recently as December, they fetched nearly $25.•
Please enable JavaScript to view this content.