Bank of America might be a newcomer to the retail banking landscape in Indiana, but it already has customers here.
In fact, some 128,000 people in central Indiana do business with the North Carolina-based giant.
Some are commercial banking clients. In 2007, Bank of America bought Chicago-based LaSalle Bank, which had maintained a commercial presence in the area since the mid-1990s.
Many others are wealth management customers through Bank of America subsidiary Merrill Lynch, which has 90 advisers in a Carmel office.
But now Bank of America is opening an actual branch in Indianapolis—in the street-level retail space in the new Cummins Inc. distribution headquarters downtown. And, company officials said, additional local offices and stand-alone ATMs will follow in the next several years.
Bank of America declined to share with IBJ many details of its local growth strategy, including whether it has its eyes on other Indiana cities.
"We're not ready to talk about that," said Will Smayda, Bank of America Financial Center and Merrill Edge Central Division executive.
Still, he called the company's decision to open branches in Indiana an "important demonstration of our commitment to Indianapolis."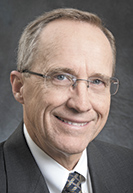 Ott
And experts say it's unlikely the bank doesn't plan to use Indianapolis as a springboard for other Indiana cities. They predict Bank of America's size and product offerings will be distinct advantages as it tries to crack the local retail banking market, although the company will face some challenges.
"It's not like these guys don't know what they're doing," said Bob Ott, an assistant professor of finance and economics at the University of Indianapolis who spent 25 years in banking before entering academia. "They're everywhere."
Bank of America hopes to build on its existing customer base to get started. "Unlike other places where we might be looking to open, we've got a presence," Smayda said. Retail branches represent "a rounding out of our capabilities."
That should boost Bank of America's chances of success here, said Mike Renninger of Carmel-based bank consulting firm Renninger and Associates.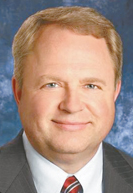 Renninger
"I just think that Merrill Lynch, with their connections to top businesspeople," Renninger said, "will give [Bank of America] a tremendous opportunity to get introduced to both deposit and lending opportunities."
Indianapolis is no stranger to big banks. JPMorgan Chase Bank NA, PNC Bank NA and Fifth Third Bank—which together capture nearly 50 percent of local deposit market share—are among the 20 largest banks in the country, according to Federal Deposit Insurance Corp. statistics.
But Bank of America is bigger than each of them.
As of June 30, Bank of America held $1.20 trillion in deposits, edging out JP-Morgan Chase with $1.16 trillion and Wells Fargo Bank NA with $1.15 trillion. The bank serves customers in all 50 states, with physical branches in 33. Indiana will be the 34th.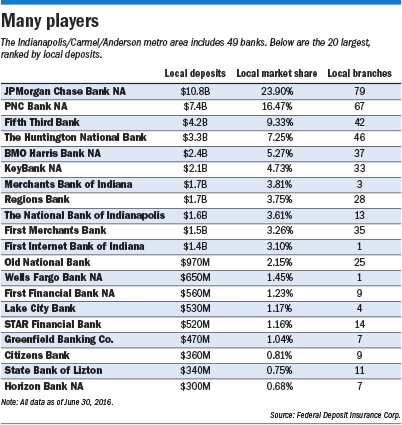 Because it's so big, Renninger said, people are likely aware of Bank of America even if they don't live within its retail footprint.
Big banks also generally have robust online offerings, and the resources to advertise heavily if they choose to, he said.
"I can just imagine that they have a whole lot of angles to play up their credibility," Renninger said.
That doesn't mean, though, that Bank of America will become a huge player here—at least not right away.
The bank says it plans to build its Indianapolis presence through organic growth—sometimes referred to in the industry as de novo growth—with no plans to purchase competitors.
"De novo is a very challenging way to grow a bank, especially when you're new to a market," Renninger said. "Most banks recognize that de novo is the slower growth model."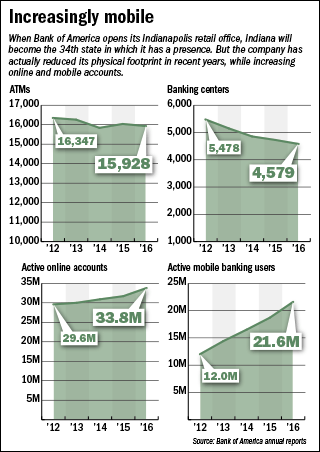 And even with its name recognition, Ott said, Bank of America would need to be very aggressive to woo large numbers of retail customers away from their current banks.
"People, when they have banking relationships, they don't move too easily," Ott said. "It's just hard to get market share."
A look at two of Bank of America's most recent market expansions, in Minneapolis and Denver, might provide clues as to what to expect in Indianapolis.
The bank entered the Minneapolis market in the spring of 2015—with an existing customer base of 300,000 people.
Since then, Bank of America has become a middle-of-the-pack player, according to the Federal Reserve Bank of St. Louis' bank market research tool, CASSIDI.
It has five branches in the market and, as of June 30, $88 million in deposits, giving it just a 0.05 percent share of local deposits. That ranks Bank of America 65th of the 127 banks in the Minneapolis region.
Bank of America entered Denver in December 2014 with 250,000 customers.
It now has four branches in that market and, as of June 30, $1.5 billion in deposits. That is less than a 2 percent share of local deposits, making the bank the 10th-largest of 76.
In Indianapolis, Renninger expects that most customer defectors to Bank of America will come from big players. That, he said, is because people who bank at smaller institutions tend to stick with that size.
Leaders at top banks locally aren't saying publicly what they think about Bank of America's expansion plans.
"We're proud of our long-standing history as market leader and intend to stay so through our customer focus, innovation and expertise," Chase's Indiana chairman, Al Smith, said in a statement.
Chase holds nearly a quarter of local deposits, ranking it No. 1 of 49 banks here.
Officials at both Chase and Fifth Third said scheduling conflicts prevented them from being interviewed for this story by IBJ's deadline.
PNC declined comment, saying it does not generally comment on its competitors and does not discuss its market-share strategy.
One of the smaller local players, Evansville-based Old National Bank, said it is not daunted by Bank of America's arrival.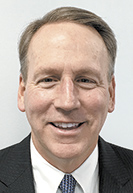 Bradford
"We don't fear them," said Mark Bradford, Old National's Indianapolis Region CEO. "It's one more good competitor in an already crowded market."
Old National moved its downtown branch to Monument Circle several months ago, seeking a higher-visibility spot.
As of June 30, Old National had $969 million in local deposits, giving it a 2.15 percent market share and 12th place in this market.
If anything, Bradford said, Bank of America's announcement confirms the strength of the local market—something that's good for everyone.
"Their market research shows that Indianapolis is the place to be."•
Please enable JavaScript to view this content.