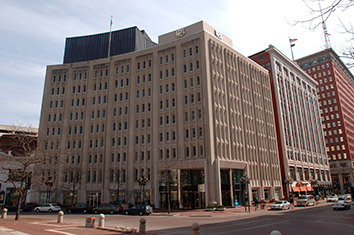 Old National Bank, the largest Indiana-based bank by assets, has locked up coveted real estate on Monument Circle and plans to move its local command center there later this year.
The Evansville-based bank on Wednesday announced it will lease the first floor of the IPL Building—also known as IPALCO Corporate Center—at 1 Monument Circle, taking roughly 9,000 square feet in the nine-story building.
Old National expects to house about 25 employees in the offices, including its Indianapolis-area leadership team, and will relocate its branch at Ohio and Illinois streets to the space as well.
The company plans to build out the space in July and move in by the fall. Officials said the new office will provide a "dramatically different and enhanced banking experience" featuring the latest technology, expanded service hours and more. The bank branch entrance will face Monument Circle.
"We kind of felt, on Ohio Street, that we were on the edge of downtown. And we wanted to be in the middle of downtown," CEO Randy Reichmann said in a phone interview Wednesday. "I don't think we could have gotten any more in the middle than we got with 1 Monument Circle."
Old National has 21 local branches and employs about 350 people in the metropolitan area.
Since at least 2012, the bank's local headquarters has been at the Parkwood Office Park near 96th Street and College Avenue. Some divisions, including the legal team and appraisal team, will continue to be housed there, but senior executives and loan officers will move downtown.
The bank will not retain operations at the Ohio Street location after the move.
IPL last year announced that it would spend $20 million to renovate and lease floors in the building, and Reichmann said the space became available in the past several months.
"We were very fortunate—got in contact with the right people at the right time and we very quickly had a deal with them," Reichmann said.
Old National closed 2015 with $11.9 billion in assets and $8.4 billion in deposits. It earned $116.7 million, or $1 a share, in the year, up from $103 million, or 95 cents a share, in 2014.
 
Please enable JavaScript to view this content.