The greens are haggard and the bunkers overgrown with weeds.

But neighbors of the northwest-side Saddlebrook Golf Course hope to save their "18-hole gem" by mounting a $300,000 fundraising campaign to help a prospective buyer return it to playing condition.

The public course, an anchor for the neighborhood bounding West 56th Street in Pike Township, closed in late 2015 after Indianapolis-based owner Cooprider Golf & Recreation Inc. defaulted on a $2.4 million bank loan. It was the latest sign of trouble for central Indiana's golf industry, which has been grappling for years with fallout from overbuilding in the 1990s, when the sport was booming.

Neighbors are undaunted and hellbent on saving the course, which they say is critical to preserving property values on their homes, which typically sell for $200,000 to $250,000.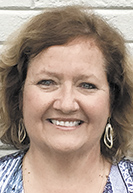 Cole
"It's the only asset we have in the neighborhood," said Lisa Cole, chairwoman of the fundraising campaign. "We don't have pools or tennis courts."

Friends of Saddlebrook LLC, the entity neighbors formed to help save the course, so far has received $178,500 in pledges and hopes to have $250,000 committed by the end of the month.

The organization makes clear in its fundraising pitch to area homeowners how important the course is, saying there is "no way for any buyer to pay [the bank's] asking price, restore the course, and be able to operate it successfully."

Danville-based Green Golf Partners has signed an agreement to buy the course, but the donations wouldn't be used for the acquisition. Instead, they'd go into bringing it back up to par.

After more than a year of inactivity, Saddlebrook is showing neglect. The boarded-up doors and windows at the clubhouse are unsightly, and the 135-acre strip of links running parallel to West Kessler Boulevard North Drive sorely needs landscaping.

The fairways, however, have at least been mowed, giving encouragement to Green Golf that it can nurse the course back to health for a 2018 opening. It's hoping to close on the sale by mid- to late summer.

"If [the fairways] had grown, it would have been infinitely more difficult to bring it back as a golf course," Green Golf President Mike Shaw said.

Indianapolis-based RN Thompson developed Saddlebrook in 1992 and expanded it to 18 holes two years later. It sits in a crowded golf corridor that includes nearby Broadmoor Country Club and Highland Country Club.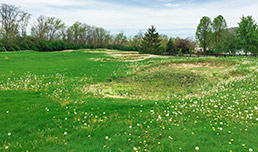 The fairways have been mowed on the 135-acre strip. (IBJ photo/Scott Olson)
Even so, Saddlebrook always seemed busy and never really competed with the membership-driven private clubs, said Cole, a longtime Saddlebrook resident, who attributed the closing to Cooprider Golf & Recreation's overpaying for the course.

The company, operated by Liz and Tom Cooprider, bought Saddlebrook in the late 1990s from RN Thompson. The Coopriders are well-known in local golf circles, having managed several area courses, including Sahm Golf Course.

"They were upside down before they even got started," Cole said. "They were loaned an incredible amount of money."

First Financial Bank attempted to recoup the millions of dollars it was owed by suing Cooprider Golf in December 2015 and ultimately foreclosed on the property.

A court-appointed receiver set the stage for an auction in March 2016, which attracted interest from both golf course operators and apartment developers. None of the bids, however, came close to the $650,000 required starting bid.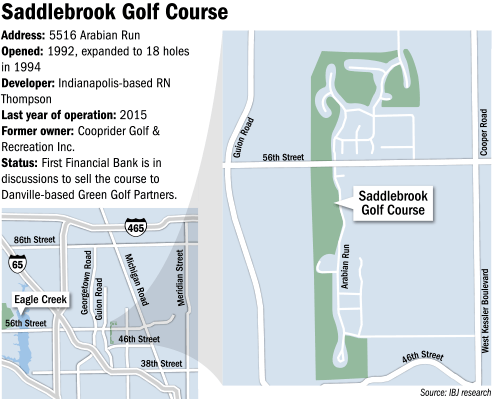 Green Golf is confident it can make the course profitable. Shaw declined to divulge how much his firm offered, though it's likely less than the bank's starting bid.

"The location is certainly fantastic for us," Shaw said. "Specifically, on the west side, it fills an important need for the community for affordably priced golf."

Green Golf Partners manages 15 courses in Indiana, Illinois, Iowa, Wisconsin and Florida, including Twin Bridges Golf Club in Danville. Saddlebrook would be the first course Green Golf would own.

A more moderate investment by Green Golf than Cooprider paid should help Saddlebrook succeed, said John Snell, a Fishers-based real estate broker and appraiser who specializes in golf courses. He briefly listed Saddlebrook on behalf of First Financial.

"What the seller couldn't survive on, the buyer might be able to at this new price point," Snell said. "So instead of closures, we're seeing many courses move down the food chain."

An overall glut of courses that cropped up nationwide in the 1990s, as golf rose in popularity, led to scores of closures during the recession. The shakeout continues today, said Mike David, executive director of the Indiana Golf Office in Franklin.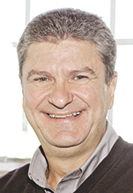 David
"I don't think that the supply-and-demand issue has sorted itself out yet," he said. "We still have more courses than we need."

The fear Saddlebrook could be developed into apartments is helping motivate neighbors to get involved.

"The homes are built around it, and the course serves as drainage," Cole said. "If someone started to mess with it, it would have negative consequences."

The course is surrounded by 341 homes that make up the Saddlebrook neighborhood, though Cole said the fundraising effort has also received pledges from nearby subdivisions such as Kessler Green, Melbourne Place, Morningside and Northern Estates.

Residents can contribute whatever amount they wish, but are encouraged to give at least $1,000. Those who hit the benchmark will receive discounts from Green Golf on rounds of golf, merchandise, and food and beverage.

Friends of Saddlebrook supports Green Golf as course owner, in part because the company told residents at the start of negotiations that it wanted to establish a neighborhood advisory council to stay connected.

The $250,000 the group hopes to raise this month would be handed to Green Golf over time, Cole said, to ensure the money isn't squandered. Friends of Saddlebrook wants to raise an additional $50,000 to go directly to fixing or replacing fencing surrounding the course.

"It's an investment in our community, quite honestly," Cole said.

Cole and her husband, Bob, built their home in 1993 near the 16th hole and watched one of their two sons learn to play golf on the course, skills he parlayed into a spot on the Pike High School golf team.

She's passionate about saving Saddlebrook—a message the fundraising pitch to neighbors stresses: "The simple truth is: this is our last chance to save this 18-hole gem and preserve the integrity of our neighborhoods—there are no other options!"

Besides the course and 2,900-square-foot clubhouse and banquet hall, Saddlebrook includes a driving range and two storage buildings totaling 8,400 square feet.•