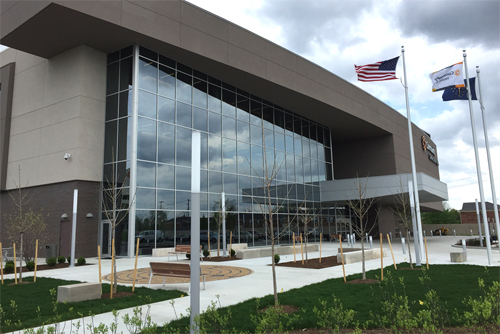 From the outside, it looks like it might be high-end fitness center, with three floors of shimmering glass and modernistic brick and stonework. Inside, the look is bright and uplifting, with plenty of natural light, high ceilings and engaging artwork.
But it's not a fitness center, even though there's a physical therapy room with weights and treadmills. It's Community Health Network's new, $60 million Cancer Center North, which will have its grand opening and open house Saturday. Officials say it is designed to lift patients' spirits as much as kill cancer cells.
"When patients and families come into a cancer center for the first time, they are worried about what's going on," said Jennifer Needler, the center's nurse manager. "We want this to offer a hopeful, uplifting environment, and bring everything under one roof."
The center, at 7979 N. Shadeland Ave., on the Community Hospital North Campus in the Castleton area, will replace a smaller, 27-year-old cancer center nearby that had become crowded and outdated.
The new center, at 104,000 square feet, is about four times as big as the old center. It contains 32 private infusion rooms for patients getting chemotherapy treatment. It also has two linear accelerators that shoot radiation beams to kill cancer cells.
It's the latest push into oncology for Community Health Network, which operates eight hospitals in Indianapolis, Kokomo and Anderson. In the last three years, the health system has opened a cancer center at its Community Health South campus, and expanded cancer centers at three other campuses.
Bryan Mills, Community's president and CEO, said the investment is a response to a fast-growing disease area with higher rates of survival.
"Diagnostic testing is better," he said. "We have better imaging labs. More people are getting checked. The research and physician community are making cancer more of a treatable, chronic illness instead of a terminal illness. More people are in recovery."
The new center opened its doors April 3, and is treating between 120 to 150 patients a day. The building was designed to have a "modern, techno-feel, blended with traditional elements," such as stone and brickwork, said Mark Hayden, senior project manager for Community.
The architect is Callison RTKL of Dallas. The general contractor is Fishers-based Meyer Najem Construction. The engineering firm is BSA LifeStructures of Indianapolis.
Please enable JavaScript to view this content.