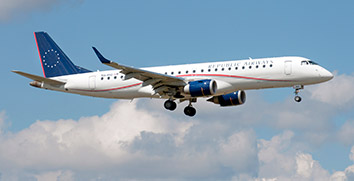 A federal bankruptcy judge has approved Republic Airways Holdings Inc.'s plan of reorganization, clearing the way for the company to emerge from Chapter 11 as a privately held company by the end of April.
The Indianapolis-based company, which flies commuter routes for larger airlines, had slid into bankruptcy in February 2016. It was driven to distress by the national pilot shortage, which left it unable to fly some of its routes, and by onerous contract terms with its big-airline partners, American, Delta and United.
Republic had filed its reorganization plan in November. But it drew a number of objections, which took months to work through. Judge Sean Lane granted final approval on Thursday.
"I want to thank our associates for never wavering in their commitment to our vision and mission throughout this challenging process," Republic CEO Bryan Bedford said in a prepared statement. "With the work of restructuring complete, we're ready to come out of Chapter 11 laser-focused on reclaiming our leadership position in the regional airline industry by delivering outstanding operational reliability to our major airline partners, excellent customer service to our guests on board our aircraft, and maximizing future value for all our stakeholders."
In the reorganization, Republic is canceling its publicly traded stock. The new owners will be creditors, which will receive new common stock in exchange for their claims.
The plan also calls for Republic to continue funding its pension plan and to continue offering retiree benefits at existing levels.
Republic is a slimmer company than when it entered bankruptcy.
In February 2016, it had about 6,000 employees and operated about 1,000 daily flights for American, Delta and United.
Now, Republic has about 5,200 employees and operates about 900 daily flights for those carriers.
Since filing for bankruptcy Republic has negotiated more favorable agreements with American, Delta and United and reconfigured its fleet, phasing out its 50-seat regional jets and converting some other aircraft to create a more efficient fleet of 76-seaters.
Republic also has taken steps to bolster its supply of pilots. It boosted their pay and signed partnerships with at least 20 aviation schools, which will help create a pipeline of graduates to fill Republic cockpits.
Please enable JavaScript to view this content.