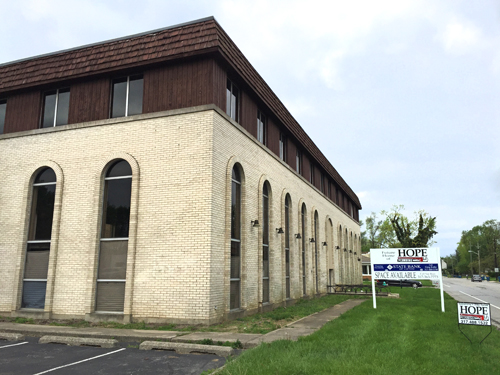 A north-side plumbing company has purchased a vacant building to accommodate its growth and is seeking city incentives to help offset renovation costs.
Hope Plumbing at 2144 E. 52nd St., near North Keystone Avenue south of the Glendale area, plans to move to a much bigger building about a block to the west, at 1919 E. 52nd St.
Jack Hope, 37, founded the company from the basement of his home in 2007 and now occupies 1,800 square feet at a former residence that's been converted to office space. In the meantime, Hope Plumbing has grown from four employees to 30 (half of which are licensed plumbers), prompting the need for more space.
The three-story building Hope purchased totals 15,000 square feet and offers plenty of room for future expansion, although one floor at the start will be leased to an outside tenant. Hope expects to invest $1 million in the project, including the $360,000 purchase price, and intends to move by fall. Work should start in the next few weeks.
The building, flanked by a small barber shop to the east and residences to the west, has been vacant for at least seven years, Hope said. It last had served as a daycare center before the previous owner started to rehab the building to convert it to shared work space. He abandoned the project and sold the building when his wife received a job promotion that required moving out of the country.
"We're willing to take the risk on the building, just because we grew up here," Hope said. "We were so committed to staying in this neighborhood, there's not a lot that would make sense for us."
Hope lived about a block from the new building when he launched Hope Plumbing while still in college. He had previously left Indiana University as a junior to start a company that sold overstock building materials.
But he returned to IUPUI to earn bachelor's and master's degrees in philosophy, finishing in 2007, the same year he started Hope Plumbing. Brad Persic is a partner in the business.
"Immediately, we had more work than we could do," Hope said. "By the time I got done with grad school, we had four employees."
Hope attributes the quick start, in part, to working at Sullivan Hardware at North Keystone and East 71st Street while in high school and making business cards available there advertising Hope Plumbing to help get it off the ground.  
Company revenue is expected to grow 35 percent this year and hit $4 million, mostly from residential service work.
Hope Plumbing has received the necessary zoning approvals for its new building and has applied for a three-year property-tax abatement from the city in exchange for committing to add six employees over the life of the abatement.
The first floor of the new building, which is a split level and sits halfway underground, will house the company's call center and service manager on one side and a breakroom and fitness center on the other.
The second or third floor, whichever one Hope Plumbing takes based on an outside tenant's needs, will be occupied by office management and a full-time marketing person that the company plans to hire. The other half will be saved for future growth.
Hope said he wants to grow the company to 50 employees.
He owns the building that the company currently occupies and plans to either sell or lease it.
To celebrate 10 years in business, Hope will host a block party at the new building from 2 to 6 p.m. May 6. Sun King Brewing is sponsoring the event.
Please enable JavaScript to view this content.