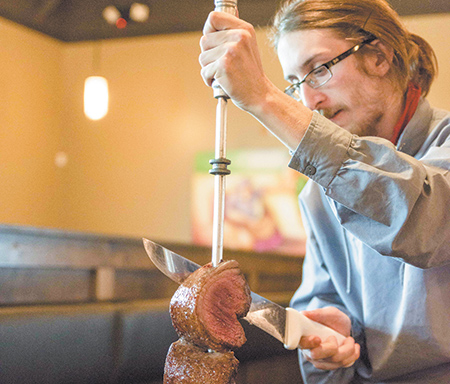 On the one hand, there's Fogo de Chao, the downtown expense account indulgence that is, locally, the gold standard for cutting-meat-at-your-table Brazilian steakhouses.
On the other hand, there's Noblesville's Tucanos Brazilian Grill, a more playful, festive, technicolor variation on the theme with a lower price point (which should come with lower expectations) and a more casual demeanor.
So where does Rodizio Grill (2375 E. 116th St., Carmel, 317-564-0046) fit in—the newcomer (at least, in these parts) in the overindulgent dining category? The chain boasts of being "the first authentic Brazilian Steakhouse restaurant or Churrascaria in the United States," so one would expect some polish.
Before I get into details, let me make clear that, on a recent visit to Rodizio Grill, our party didn't go away hungry. We sampled meats. We tasted many an appetizer. And while some of it was uninspired, little of it needed to be sent away with the dirty plates.
On the other hand, we also weren't tempted to overdo it with just one more slice of meat, just one more portion of a side dish, or just one more bite of dessert as we have been with previous Brazilian steakhouse experiences.
An uninspired decor, a tight space that used to house a Romanos Macaroni Grill, and a few too many visibly and audibly unhappy staff members added up to less of a fine dining experience and more of a … well, on occasion, I felt like I was in a fancified Golden Corral. For $35.99 a person—$24.99 if you forgo the meat—and extra for drinks and dessert beyond the buffet, a bit more grace should be expected. Of course, you can get in at a lower price for brunch at $24.99/$19.99. And your hungry 11-year-old can dine for $9.99 anytime.
As is the norm at such places, patrons use a simple green side/red side mini-barbell to signal servers to bring on the meats. The various gauchos who visited our table armed with skewers of meat ranged from the enthusiastic to the indifferent, and their offerings didn't match the quality of the aforementioned steakhouses. Variety was in short supply. Braised beef was a highlight, but sausages were relatively flavorless. And what the menu calls Bife Com Alho—and which the gaucho simply referred to as "garlic beef"—lacked the promised "delicate, not overwhelming, garlic flavor." The most memorable item carved tableside proved to be the grilled glazed pineapple, reminding me to include that in the backyard barbecue rotation this summer.
A small dish of sides—Brazilian cheese bread, cinnamon-glazed bananas and polenta sticks—warranted refilling, with the polenta being particularly popular at our table. And there was enough of merit on the buffet to mitigate the meat-centricity. Roasted Coconut Pineapple Slaw gave the standard side a nice tropical flair, and asparagus and whipped potatoes—usually subject to additional charges at traditional steakhouses—were welcome gratis additions. So were Couve (collard greens and bacon) and Feijoada, a traditional Brazilian black bean stew.
But some instruction might be helpful to maximize the pleasures of the buffet. Having Farofa—yucca flour—on hand is a nice touch, for instance, but how many know that it's there to be sprinkled on rice and beans? (I readily plead ignorance on this one, not knowing its use until I did some internet searching.)•
—Lou Harry
Please enable JavaScript to view this content.