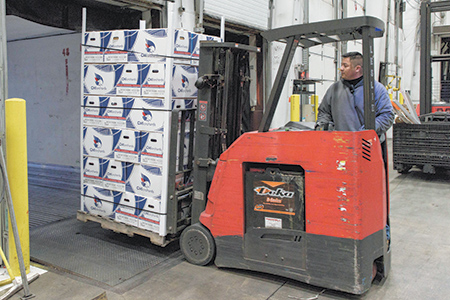 Indianapolis-based Celadon Group Inc. is banking that a new federal food safety rule will help it take a bite out of its competition—in part because smaller carriers won't be able to afford to comply.
But some smaller firms, including Indianapolis-based CMA Logistics—say they won't be scared away so easily.
Last month, larger trucking companies, including Celadon, had to begin complying with the U.S. Food and Drug Administration regulation, which aims to keep food products safer from contamination during the transportation process. It's part of the FDA's Food Safety Modernization Act, which was enacted in 2011 and is being implemented in stages.
A big piece of the law went into effect April 6: Carriers of fresh food must be able to verify the temperature of their cargo, track the temperature, and produce the supporting data upon request.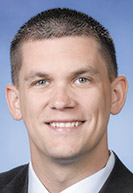 Hoffman
Celadon is looking to grow its temperature-controlled freight business significantly and it sees this new rule as an opportunity, said Chad Hoffman, vice president of operations at Celadon Trucking.
"It'll drive more business to us, and less business to the carriers that are not compliant with the law," Hoffman said.
Celadon got into temperature-controlled shipping in 2013 when it acquired Rock Leasing Inc., based in Warren, between Marion and Fort Wayne. Celadon currently has 1,100 temperature-controlled trailers, which carry about15 percent of the company's total freight, Hoffman said.
"We would like that to be, in the short term, upwards of 30 percent—and in the long term, five years down the road, potentially in the 50-percent range," he said.
One reason for Celadon's optimism: Temperature-controlled trailers are much more expensive and Celadon has invested in the technology. Other carriers, especially smaller ones, might not be able to afford it, Hoffman said. A temperature-controlled trailer costs about $65,000, compared to $25,000 for one that is not.
Smaller carriers have an extra year—until April 2018—to comply with the new rule. Hoffman said he expects to see a "trickle effect" over the next year or so, as non-compliant trucking companies drop out of the food transport business.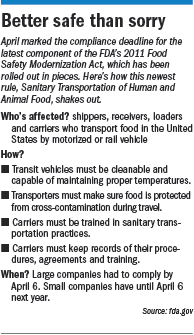 Mike Frewer, vice president at Indianapolis-based Thermo King Midwest, which sells temperature control systems for the transportation industry, also expects to see a shakeout. The company oversees nine Thermo King sales and service locations in Indiana, Ohio, Illinois and Missouri.
Refrigerated trucking has been on the increase in recent years, Frewer said, but tends to be concentrated among the larger carriers.
Cost aside, the new rule is making food shipping more complex overall, he said.
The food producer is the one who sets the transport standards for a shipment, including the temperature at which the food must be held and what protection must be offered from cross-contamination.
For instance, Frewer said, a producer of organic products might specify that it doesn't want its items transported alongside non-organic items.
"There's all these kinds of things that carriers and shippers have to have conversations about," he said. "Most trucking companies haul, on any given day, a whole number of different loads for a whole number of different shippers … and very few of them have the same requirements."
Frewer started talking with customers about the new rules about five years ago, he said, when it was evident the changes were on their way. Some companies, though, still aren't prepared.
"The smaller guys, many of them are clueless," he said.
Although smaller companies will have a harder time complying because of more limited resources, Frewer said, that doesn't mean they will necessarily be out of the game. Well-managed ones might do just fine, he said.
"Is 100 trucks and trailers the right number? Or is it bigger than that or smaller than that?" Frewer said. "I don't think we have that answer yet."
One smaller carrier, Indianapolis-based CMA Logistics, said it's not worried about the updated technology requirements—but it is finding other parts of the new rule frustrating.
CMA has 14 trucks and 40 trailers and specializes in transporting food and food-grade cargo.
Andy Dittmaier, CMA's general manager, said his company is in the process of upgrading its GPS system to one that can track both location and temperature—and can provide access to temperature data via laptop.
The upgrade will cost about $10 per month per trailer, Dittmaier said. He also anticipates investing in technology that will allow drivers to determine the temperature of boxed-food products.
Overall, he said, the upgrades are not posing much of a problem.
But a training regulation in the new rule is another story. It requires drivers to be trained on sanitary food transportation and to provide proof of such training upon request. But Dittmaier said he hasn't been able to find any standards laying out what that training should cover.
"There's a lot of vagueness in the law," he said. "If you talk to people in the industry, there's still a lot of confusion and rumors."
So he plans to wait and see how the training issue shakes out as the larger carriers implement it first. "Companies our size, if we're smart, will just follow their lead and do what they do," Dittmaier said.
The rule is having ripple effects in other corners of the transportation industry, too. For example, Indianapolis-based Spot Freight Inc. said it is now having to spend a little more time matching shippers with qualified carriers.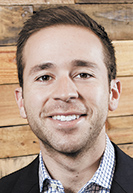 Mascari
"It's just a lengthier process when communicating with drivers," said Theo Mascari, Spot's national account director.
Dispatchers now must ask drivers whether their refrigeration unit is functioning, and they also must go over specific temperature and sanitation requirements for each shipment.
If a driver preparing to load cargo is having problems verifying the cargo's temperature, this might prompt another call to Spot.
Ordinarily, Mascari said, dispatching a driver should take two to three minutes. But for food-related shipments, this process can now take four or five minutes.
"If you're dispatching 70 to 100 drivers a day, that can add up," he said.•
Please enable JavaScript to view this content.