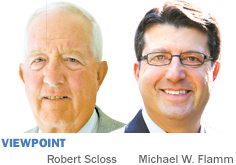 Good fences might make good neighbors in some cases, but building a costly wall on our border with Mexico will not accomplish President Trump's objectives and will lead to a counterproductive waste of resources.
For one, the wall would take at least four years to build and would not significantly reduce illegal immigration, which is already on the decline. In particular, it would have no effect on migration by water-based routes. Nor would it reduce the number of immigrants who enter the United States with valid tourist visas but remain after the expiration date.
For another, the cost of the wall will have to come from U.S. taxpayers, contrary to what the Trump administration has promised. Placing a high tariff on imported goods from Mexico would disrupt trade patterns and harm U.S. manufacturers who depend on products shipped from maquiladoras (U.S.-owned factories just across the border). Nor could the White House effectively impose a surtax on money transfers to Mexico because immigrants here could easily send help to their families back home through third-party countries.
Finally, the wall would not stop the illegal importation of drugs—traffickers would simply increase their use of air and naval supply routes. It is also important to remember that our appetite for illegal drugs causes a tremendous amount of violent crime in parts of Mexico and the United States. We have lost the "war on drugs" and now need to focus on drug-cessation programs. As with tobacco and alcohol, taxing and regulating consumption is the only logical path to reducing crime and addiction in our inner cities. Asking our neighbor to pay for our vices is neither logical nor possible.
What the United States could and should do is to vastly expand the supply of green cards to otherwise law-abiding undocumented immigrants, who could then pay Social Security and income taxes without fear of discovery and deportation. Trump is now planning to overhaul the U.S. tax code. Having 5 million to 8 million new taxpayers would certainly make the job easier. The new legal residents could not jump the queue, but would have a path to U.S. citizenship. If we issued more green cards, we could also crack down on those companies that hire and exploit undocumented workers, especially in occupations like lawn care, domestic service and home construction. Then those companies might start to hire American citizens again—assuming they were willing to do the work.
Illegal immigrants with little education do impose a cost on the country. The Center for Immigration Studies contends that, if a wall reduced the flow only 10 percent, the savings would pay for the cost of construction. But it does not take into consideration the revenue from granting green cards to the undocumented individuals and families already living in our country. Nor does it consider that most of our immigrant ancestors probably represented an initial net cost to the country, but subsequent generations achieved success and fully repaid the investment and faith in our forefathers and -mothers.
The bottom line: Building a 2,000-mile wall on our southern border makes little sense and could have big repercussions—most of them negative. Some campaign promises are best left unfulfilled. This is one of them. A wall would most certainly not make America Great Again.•
__________
Flamm is a professor of history at Ohio Wesleyan University. Schloss is president of Omega Communications and is a shareholder of IBJ Media.
Please enable JavaScript to view this content.