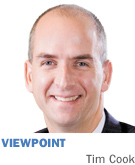 James Carville famously advised during the 1992 presidential election: "It's the economy, stupid." This adage proves to be sound political advice 25 years later, as the state budget approved in the closing wee hours of the 2017 General Assembly had a decidedly economic bent to it.
Addressing everything from more direct flights to increased funding for emerging technologies, legislators gave businesses plenty to be happy about in 2017. Highlights from the state budget and other pieces of economic-minded legislation expected to be signed into law by Gov. Eric Holcomb include:
Infrastructure. An increase in road funding was an absolute must this session. Indiana's "Crossroads of America" title has been in serious jeopardy the past several years as money for road improvements has been slow to materialize. The 2017 General Assembly addressed this gap in a big way. Road-related taxes and increases in vehicle registration fees will provide an estimated $1.2 billion for infrastructure through the middle of the next decade. The Legislature also provided funding for the South Shore rail line in northwestern Indiana to improve commute times and general accessibility in the area. Critics argue that some of the road fundraising measures don't take effect fast enough, but regardless, this session includes the most aggressive infrastructure funding seen in the Statehouse in many years.
Workforce development and pre-K education. Holcomb and Speaker Brian Bosma stressed better coordination of workforce development efforts in the lead-up to this session. SB 198 addresses various technical and career education initiatives, including more robust collaboration between the Board of Education and Department of Workforce Development in the areas of information-sharing and course certifications.
Equally critical to workforce development is investment in early education, ensuring Indiana has a skilled workforce long term. A pilot program currently in place to provide high-quality education to lower-income children will receive a boost of $22 million in annual funding to expand coverage from five counties to 15. Included in this program will be $1 million to support online education for pre-K children. The budget also includes $2 million to align K-12, higher education and workforce considerations with STEM and other education initiatives.
Economic development. The Legislature extended funding and eliminated sunsets for a variety of economic development programs. Additionally, it created a significant new influx of cash for Holcomb's "Next Level" initiatives, including innovation and entrepreneurial investment for promising technologies and growing companies. Included in the mix is additional funding for regional economic development projects, a mini-sequel to Indiana's popular Regional Cities Initiative. Also approved: $20 million in funding to the Indiana Biosciences Research Institute.
Though not an economic-development-driven measure only, the budget provides funding for more direct flights for domestic and international destinations. Added flights will benefit companies of all shapes and sizes, including tech firms and their venture capital partners traveling to and from the state.
(Speaking of venture capital, while the Legislature's economic development spending is both noteworthy and important, Indiana's venture capital dilemma remains a critical problem that needs to be solved. A study released earlier this year shows Indiana lagging regionally and nationally in bringing new venture capital money into the state. I hope transferability of the venture capital investment tax credit and like-minded solutions will gain greater traction next session.)
While the fight to sell cold beer stole many of the headlines in the waning hours of this session, the many economic measures enacted this year will have the biggest impact in the years to come. This business-friendly legislative session will give participants in Indiana's economy plenty to toast.•
__________
Cook is CEO of KSM Location Advisors.
Please enable JavaScript to view this content.