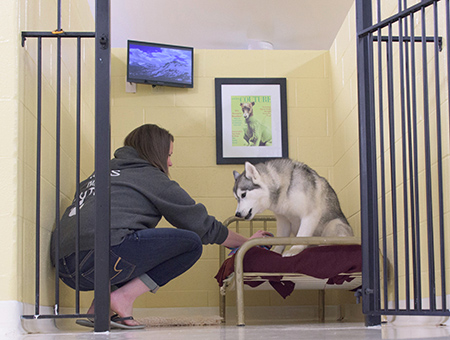 In 1995, Kevin DeTrude opened what he considered an inn for pets, offering overnight boarding services in Fishers.
But today he describes his business, on Promise Road south of East 141st Street, as a pet resort.
The overnight options at Beverly's Pet Resort & Training Center are labeled Cabo, Palm Beach and Fiji packages and include "tuck-in treats," photo updates sent to pet owners, and various levels of attention and activity.
DeTrude has added a four-acre bark park, a day care romp room and training programs to keep up with demands from customers, who are increasingly willing to spend money on their furry companions. They are not alone.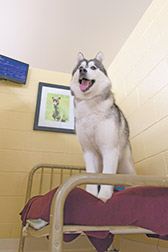 Since 1994, when the Connecticut-based American Pet Products Association started tracking spending on pets, it has increased every year, with the largest boost—nearly 11 percent—occurring last year.
Annual expenditures were up to nearly $67 billion in 2016, and are predicted to top $69 billion this year.
Pet industry experts say Americans are spending more because they increasingly view their four-legged friends as part of the family, making people willing to pay more to treat them as such.
"It's no longer satisfying to me to give [a dog] an old, dirty tennis ball," APPA President and CEO Bob Vetere said. "I feel like I have to reward him in human-like terms, and human-like terms are more expensive than dog terms."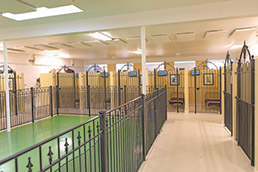 That means higher-quality food options, better overnight accommodations and improved day care services—and local and national companies have been investing in the Indianapolis area to meet those demands.
Pet Palace, a Columbus, Ohio-based boarding facility that launched in 2006, opened its first Indiana location in 2015, just south of West 96th Street near Michigan Road. It plans to keep expanding here.
Lora Shaw, Pet Palace vice president of operations, said the company expects to open a facility at 11696 Fishers Corner Blvd., near Target in Fishers, by October. Plus, company officials are looking at new markets, including Nashville, Tennessee, and Raleigh and Charlotte in North Carolina.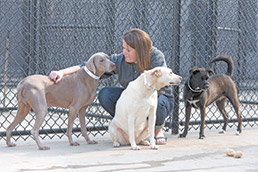 Shaw said Pet Palace looks for growing areas close to airports to make it convenient for frequent travelers.
"I think being right off I-465 has certainly helped in our growth here," Shaw said. "It's a good area. We really enjoy being here."
Other retailers—including Kansas City, Missouri-based Three Dog Bakery and Canadian-based Pet Valu—have also been spreading their footprint. Three Dog Bakery is up to four Indianapolis-area locations and Pet Valu has eight.
Foodies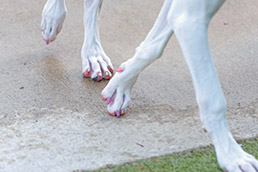 Ohio-based Pet Palace has one Indiana location, off of West 96th Street. Amenities include personal attention, lush accommodations and toenail polish. (IBJ photos/Eric Learned)
And local entrepreneurs, like DeTrude, and Carmel resident Sean Litke, who founded Cosmo Superior Foods, are making their mark.
Litke started making dehydrated and freeze-dried jerky in 2012 to provide a better food option for dogs. He initially sold the chicken jerky at Canine Cloud Nine, an upscale pet retail store he opened in Carmel that same year.
In his first year in business, Litke said, he sold 400-500 pounds of chicken jerky. Last year, sales hit 18,000 pounds.
The overwhelming growth caused Litke to sell the retail store and focus on running Cosmo Superior Foods full time. Three products have been added—wild-caught sockeye salmon, whole chicken hearts and chicken feet—but chicken jerky remains the top-seller. So far in 2017, more than 15,000 pounds have been sold.
Litke has expanded his company's physical presence—doubling space from 2,500 square feet to 5,000 square feet—and purchased additional equipment to manufacture the products more efficiently.
"There has been a giant shift from people not really worrying about the cost of their own food but worried about where it's coming from," Litke said. "I think a lot of people can't bring themselves to feed [pets] things they read is absolutely terrible."
Vetere agreed that, as people become more concerned about their food, they start worrying about their pets' food as well.
"Any human food trend will show up as a pet food trend," Vetere said.
Food is the biggest single segment of pet industry spending—topping $28 billion in 2016, according to the pet products association. That's followed by veterinary care, pet supplies and medicine. Spending on what the APPA labels as other services—which include pet spas, day care and grooming—increased 6.5 percent in 2016 and is estimated to jump another 6.1 percent this year.
DeTrude said the only year his business didn't see growth was 2008, which he attributed to the economic downturn. But even then, the overall industry still enjoyed a boost. U.S. spending on pets increased from $43.2 billion in 2008 to $48.4 billion in 2010.
DeTrude said that growth is a result of two factors—the increasing number of empty-nesters who own dogs as a way to fill the void left by their grown children and technology that detaches humans from one another, who then turn to pets for affection.
"Pets are filling [needs that] used to be filled by humans," DeTrude said.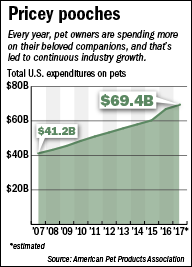 No slowing down
Fishers resident Tom Ferrell has been watching the growth in the pet industry for years.
In 2011, he felt confident enough about it to open a pet resort because he assumed if pet spending could increase during the economic downturn, it would probably continue to do well.
"This is almost proving to be a recession-proof kind of industry," Ferrell said. "I don't know specifically what has charged the force behind this, but it's just been a booming industry."
Ferrell has spent six years—and close to $1 million—working on his plan for 4 Paws Lodge, and he hopes to break ground on the 33,000-square-foot retreat for furballs this year at the former Pierson Bark Park.
The lodge could cost $3 million to $7 million by the time it's complete, but Ferrell believes the investment will be worthwhile.
In addition to day care rooms, private suites and an outdoor play area, 4 Paws Lodge is expected to have an indoor pool, an obstacle course and private patios attached to all suites.
"I've brought all the best-of-the-best features in one place," he said.
And even though the first location has yet to break ground, Ferrell is dreaming big. He wants to replicate the facility across the country.
"From what I've seen … I don't think [the trend is] going to be slowing down for quite some time," he said.
Despite the increasing competition from 4 Paws Lodge and Pet Palace, DeTrude—owner of Beverly's Pet Resort—doesn't believe the market is saturated.
"Until they come up with a virtual pet, this trend will continue," DeTrude said. "But can a virtual pet deliver the kind of love and affection that humans desire?"
Vetere, with APPA, said every time he's predicted the growth would level off, it hasn't happened.
"Will we plateau at some point? Probably," Vetere said. "But I don't think it will be anytime soon."•
Please enable JavaScript to view this content.