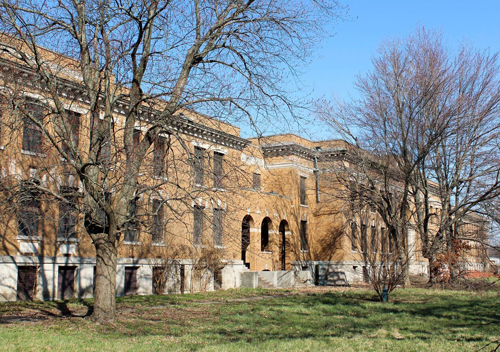 Two sites in Indianapolis have been named to Indiana Landmarks' annual top 10 list of "Most Endangered" properties.
The not-for-profit preservation group released its list Monday, with six new listings, three landmarks repeating from last year's list and one property returning to the list after a 12-year absence.
Simpson Hall at the Indiana School for the Deaf in Indianapolis has reappeared on the list after previously appearing from 1999 to 2005.
Old Fire Station 18, a west-side landmark, is making its first appearance on the list.
Simpson Hall
Simpson Hall opened in 1911 at 1200 E. 42nd St., immediately north of Indiana State Fairgrounds, as the girls dormitory at Indiana School of the Deaf.
The building has been vacant for more than 30 years without maintenance and urgently needs stabilization, according to Indiana Landmarks.
The structure is one of the five surviving National Register-listed buildings in the original Neoclassical quadrangle-style campus, which was designed by noted architectural firm Rubush and Hunter.
Simpson Hall was previously listed on the endangered list along with boys' dormitory Beecher Hall, but Beecher was demolished in 2002.
State lawmakers have appropriated $1 million to demolish Simpson Hall, an action that has prompted its return to the list.  
"Despite its condition, we have several developers interested in repurposing the building as apartments," Mark Dollase, Indiana Landmarks' vice president of preservation services, said in written comments. "We'll work to persuade the state and the Indiana School for the Deaf to invite developers' proposals for reuse of the landmark."
Old Fire Station 18
Pierre & Wright designed Old Fire Station 18, built in 1936 at 3130 W. Washington St., at the corner of Tibbs Avenue and along the edge of the former Central State Hospital property.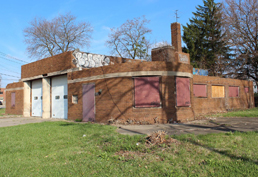 Old Fire Station 18 is considered a prime example of functional modernism. (Image courtesy Indiana Landmarks)
The Indianapolis Fire Department left the building for new digs in 1994, and it has been vacant and neglected ever since.
The station was featured in a 1937 issue of American Builder magazine, which praised the station's "functional modernism" and noted that its compact single-floor layout eliminated the need for the traditional bell tower and brass pole.
Indiana Landmarks fears the city-owned structure will be demolished for a convenience store or drugstore because of its corner location.
Indiana landmarks has been issuing a Most Endangered list since 1991. The group said demolition has claimed only 16 of the 119 sites that have been listed, while 72 places are completely restored or no longer endangered.
"These places shape lives and give identity to communities, and when they're gone, they leave a void that can't be filled," Indiana Landmarks President Marsh Davis said in a written statement. "While some might call these lost causes, we can point to countless 10 Most success stories—places on the brink of extinction that were saved, restored, and repurposed."
Repeat properties
— The Washington County Courthouse in Salem: The limestone building, built in 1888, needs numerous repairs. The Romanesque Revival-style structure's clock-and-bell tower is unstable following ill-conceived repairs after a 1934 lightning strike led to deterioration.
— The Speakman House in Rising Sun: Built in 1846 of bricks baked on the site, the 17-room house sits on a rise above Laughery Creek with a view of the Ohio River. Today, the porches are collapsing, the roof leaks and the interior suffers water damage.
— Pryor's Country Place in Fox Lake: The African-American landmark, built in 1927, faces jeopardy not because of neglect but because it sits on a large parcel of highly desirable lakefront land. Originally a home, the now-vacant Craftsman-style house was converted into an inn in the 1940s for black vacationers.
New to the list
— Old Marquette School, South Bend: The New Deal paid nearly half the cost to build the school in  1936-37. It was abandoned for a new school in 2011, but the neglect of the Collegiate Gothic-style began even sooner.
— Marion National Bank Building in Marion: Constructed in 1917, the seven-story building dominates downtown Marion's National Register-listed historic district. It has been vacant for a decade.
— Old YMCA in Terre Haute: The YMCA provided a civic boost with state-of-the-art facilities when it opened in 1939, but the Spanish Revival-style building designed by Miller & Yeager has been vacant since 2006.
— Newkirk Mansion in Connersville: Completed in 1880 by the well-to-do owner of a furniture manufacturing company, the structure is vacant and in declining condition.
— Round and polygonal barns that are found statewide: Only about 219 of the structures were built in Indiana from 1874 to 1936, and they are becoming increasingly rare. Indiana landmarks would like to see a complete survey of the barns completed so a preservation strategy can be formed.
Please enable JavaScript to view this content.