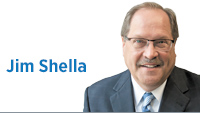 Erin Moran died last month in southern Indiana. An early and erroneous report suggested the one-time Hollywood star's death was the result of a heroin overdose. Her former co-star, Scott Baio, quickly condemned her behavior and that of anyone who takes drugs. He said in a radio interview, "You do drugs, you die."
It turns out Moran, famous for portraying Joanie on "Happy Days," died of cancer. The sheriff found no evidence of drug use or abuse.
The response from Baio is an example of a larger rush to judgment and the search for easy answers when it comes to the battle against opioid abuse.
State and federal authorities are all looking for ways to change laws and behavior. It is a noble pursuit and one I encourage. Not all those efforts are well thought out, however.
Before I go on, let me just say I know more about this subject than I would like, not only because I have covered the debate as a political reporter, but also because the opioid crisis visited my house.
Not quite seven years ago, my son, Andrew, died of fentanyl poisoning. He was 27. It's an experience I don't wish on anyone else.
Fentanyl is a synthetic opioid used as a painkiller, most often in the form of a skin patch. Andy apparently put a fentanyl patch in his mouth and then aspirated it. There was no indication of drug use in his room and we learned the cause of death only when we received toxicology results from the coroner weeks later.
So, what happened? We don't know, but we heard that a friend of his had a father dying of cancer. The father, we were told, was selling his pain medication. Maybe. There is nothing we can prove. The police conducted no investigation.
It's the sort of story that leads to current efforts to convince doctors to reduce the overall number of opioid pain meds being prescribed. That might be a good idea and a necessary element of any crackdown on opioid abuse, but there is another side to the story.
I know about that, too, because both my wife and my daughter live with chronic pain. Without pain meds, they would both be bedridden. It would not be wise for me to share their medical histories here, but I can find plenty of doctors who would tell you their problems are real.
Yet some doctors, citing pressure from the government, now insist on reducing prescriptions for pain medications.
The members of my family are not the only ones who face that. Other patients tell stories of doctors who suddenly refuse to write prescriptions for pain medications altogether.
The doctors have reason to be cautious. Thirty-one doctors in New Jersey recently lost the ability to practice in that state, accused of overwriting prescriptions for pain killers.
No doubt, there are bad doctors and we all know that many addicts become hooked first on painkillers; that's the motivation for the crackdown. But good doctors need discretion and every patient deserves individual treatment. The government needs to react less like Scott Baio and take a more thoughtful approach.
My family still endures the pain of what happened to my son. We don't need the government to add to it.•
__________
Shella hosted WFYI's Indiana Week in Review for 25 years and covered Indiana politics for WISH-TV for more than three decades. Send comments to ibjedit@ibj.com.
Please enable JavaScript to view this content.