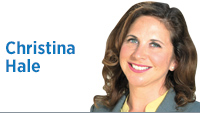 Creating communities with a sense of place that will attract and retain talent is important. Ensuring that workers have skills to succeed once in the workplace, including the ability to communicate clearly and to empathize with others, is critical as well—just ask our Indiana Chamber of Commerce. It cites a "dynamic and creative culture" as well as "outstanding talent" as two of the top four drivers of Indiana's future economy.

Yet it is very possible the National Endowment for the Humanities might soon be defunded—and with it federal support of Indiana Humanities, the lead organization that supports these initiatives statewide.

Automation, trade, emerging technology … today, so many drivers are changing the way we work and live.

Opportunities to earn income are very different and in constant flux, particularly for mid-career adults and up-and-coming generations.

Several years ago, Rep. Jerry Torr and I co-authored legislation creating the Regional Cities Initiative with the intention of motivating employers, educators, civic leaders and others to work beyond borders to better connect and prepare people with job opportunities.

A critical component of this program is forecasting opportunities years in advance so people can find employment where they live and to cultivate a workforce with relevant preparation.

Interestingly, the National Foundation on the Arts and the Humanities Act of 1965 created the National Endowment for the Humanities during a time of war; it was created when Republicans and Democrats together recognized that the fractious political climate in our country demanded remedy through the study of our history and emphasis on the cultivation of democracy.

We are certainly experiencing similar times today, as we also face opportunities to do just what the Indiana Chamber also demands—the continued cultivation of outstanding talent and a dynamic and creative culture.

As of 2014, Indiana was ranked 42nd in the nation for per-capita arts spending, at 44 cents per person. Yet even without more robust support, the creative economy employs 124,471 people in the state of Indiana. This could and should grow if we are going to have higher-wage career opportunities for Hoosiers over time.

In fact, from 2010-2015, employment in creative industries in Indiana dropped 1.1 percent, while nationally, employment in creative industries grew 4 percent. Also, 20 percent of creative occupations are self-employed nationally, compared to 57 percent in Indiana.

Here in Indianapolis, more people attend cultural events than they do sporting events, generating a stronger economic impact.

Indiana Humanities receives slightly more than $800,000 from the NEH annually. On average, for every $1 grantees receive, they leverage $5 from other sources.

Over the past two years, Indiana Humanities has directly provided $257,849 to Indiana not-for-profits and they have leveraged an additional $1,370,419.

In addition, the NEH funds programs and academic research directly. In the last 10 years, Indiana groups have received nearly $28 million in direct NEH grants.

Successful communities are connected and engaged, and the work of Indiana Humanities supports that.

There is a reason former Gov. Mike Pence appointed Indiana Humanities CEO Keira Amstutz to serve on the panel to select the winners of the Regional Cities Initiative. The work Indiana Humanities does for our state supports the anchors in the community that help cities and towns thrive, as well as the people who live in them. And clearly, this support is in Indiana's best economic interest.•

__________

Hale is a former member of the Indiana House and ran for lieutenant governor in 2016 on the Democratic ticket. Send comments to ibjedit@ibj.com.