When she was named to Forty Under 40, Deb Kunce was in the midst of 18 years with Schmidt Associates and partway into a 10-year, $695 million capital improvements project with Indianapolis Public Schools.

"When you're starting out a 10-year project, you think it's going to last forever," she said. "Then suddenly 10 years goes by and you think, 'Huh, what's next?'"

She answered that five years ago by leaving Schmidt to start her own firm, CORE Planning Strategies, a third-party, outsourced project-management company.

At the time she left, Kunce was national vice president of the American Institute of Architects and was considering running for national president. She said she realized that 70 percent of the organization's members are small businesses, but she had worked for only large firms. Plus, one of Schmidt's clients had been courting her to work for them.

"I decided: 'What better time to go ahead and start my own business?'" she said.

CORE is or has been part of several high-profile projects, including:

■ The Citizens Energy Group project to redevelop its former coke manufacturing site on Prospect Street, which is slated to be the site of the city's new justice center.

■ Working with the Carmel Redevelopment Commission on creating new parking garages and infrastructure to attract private development.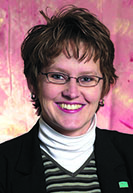 Kunce

■ The city of Indianapolis' plan to renovate part of the plaza south of the City-County Building this summer.

■ The Indiana University, IU Health and IU Health Bloomington Hospital project to create a regional academic health center in Bloomington.

Kunce said she's one of few women in construction management and she's comfortable with that.

"I live in a man's world—and that's OK," she said. "It's never bothered me. People talk about the glass ceiling. I've never experienced the glass ceiling. I just go in, do a good job and help make things happen."•

—Marc D. Allan