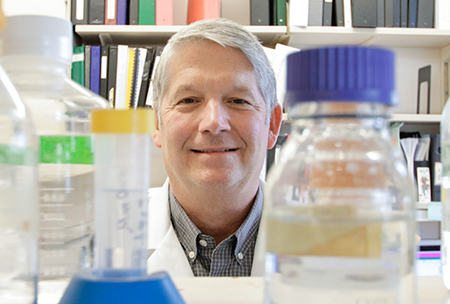 At Apexian Pharmaceuticals, a young biotech firm that has been working for 10 years on new drugs to treat cancer, the script seems nearly perfect.
The Indianapolis company won approval last year from the Food and Drug Administration to test its first drug in patients with solid tumors. Oncologists at three sites in Indiana, Michigan and Texas are ready to begin clinical trials this year. Apexian has ordered 15,000 doses of the drug and has them ready for shipping, 30 coated tablets to a bottle.
But CEO Steve Carchedi has a problem. He needs money—a lot more money.
Apexian has raised about $5.5 million so far, but has spent much of it to get the drug to this point. It needs roughly another $5 million to pay for early-stage trials, an 18-month process to test the drug for safety. After that, the company will need another $25 million or so more to get it through middle- and late-stage trials to show the drug actually works, which could take another five or six years.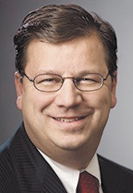 Carchedi
"I spend 98 percent of my time doing nothing but pounding the pavement to try and raise investment dollars," Carchedi said. "It's an ongoing battle. We do it day in and day out. There's a lot of rejection. It's not for the faint of heart."
Apexian is not alone. Around Indiana, life sciences companies are searching high and low for venture capital to fund promising but expensive new products, which can take a decade or longer to develop.
The amounts of money biotechs need to get a product through clinical trials can be in the tens of millions of dollars. Yet many companies are raising only a fraction of that.
Last year, the average amount of venture capital raised by an Indiana life sciences company was $2.6 million, according to BioCrossroads, an Indianapolis group that promotes and invests in the life sciences sector. In all, 29 companies landed a total of $89.3 million in venture capital.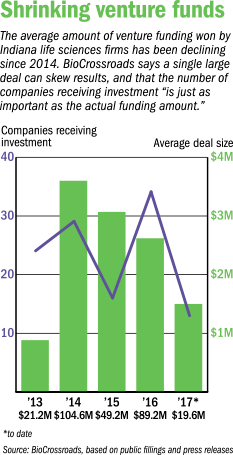 For the first quarter of 2017, the average investment was even lower: $1.5 million. Thirteen companies landed a total of $19.6 million, according to BioCrossroads, which compiled the data from public filings and press releases.
Every dollar helps, and life sciences promoters point out that the pot of venture funding has grown over time, after being nearly absent from the Indiana market before 2002. Life sciences companies here picked up $104.6 million in 2014 and $89.2 million in 2016—the two highest amounts ever, BioCrossroads said. But the competition is fierce, and some companies are still scrambling for every dollar.
"Biotech and drug development companies need huge chunks of money," said Fritz French, an Indianapolis life sciences veteran who has held executive positions at Guidant Corp., Eli Lilly and Marcadia Biotech and has guided or led numerous startups. "But venture capital is limited. It's a bit like hunting for a needle in a haystack."
Tough odds
David Johnson, CEO of BioCrossroads, said life sciences companies across Indiana are working hard to develop products, and many have notched up significant successes, in a wide range of drugs, devices and other technology.
"But there's also a huge failure in things that look like they're going to work," he said.
The overall success rate for new drugs is just 9.6 percent, from early clinical testing to FDA approval, according to BIO, a huge biotech trade association, based on data from 2006 to 2015. That means nine out of every 10 drugs that go into clinical testing are scrapped along the way.
Of the 14 major disease areas, hematology had the highest likelihood of approval (26.1 percent) and oncology the lowest (5.1 percent).
The biotech world is littered with stories of products that failed after companies raised tens of millions of dollars and developed drugs that looked great on paper. Last year, two patients died in a Phase 1 study of a brain tumor drug being tested by Boston-based Ziophram Oncology, and the company's stock price tumbled 26 percent in the week after the disclosure.
Another biotech company, NewLink Genetics Corp., based in Ames, Iowa, said a drug it was testing for pancreatic cancer failed last year to meet its primary end point for significant overall patient survival in a late-stage trial. Shares fell 41 percent on the news, and the company announced two months later it was cutting 43 percent of its workforce.
Three years ago, Endocyte Inc., a biotech firm based in West Lafayette, saw its stock plunge 60 percent after the drug it was developing failed to help patients in a trial for ovarian cancer. That was a huge letdown for Endocyte, coming just four years after it raised $86 million in an initial public offering. The company raised more than $100 million more in two additional offerings. Last summer, Ron Ellis resigned as CEO, 20 years after helping start the company.
Even large, seasoned pharmaceutical companies scrap experimental drugs every year for safety or effectiveness reasons.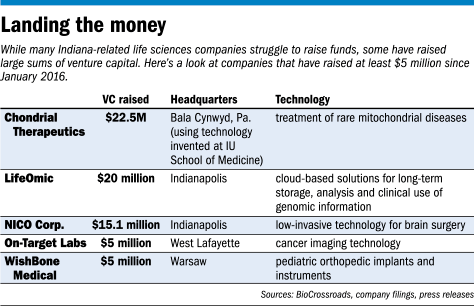 Financial payoff?
Even if a biotech company successfully tests a drug that works safely and effectively, that doesn't mean payers and investors will be satisfied.
What they are looking for, in a hugely regulated environment, is a treatment that will outperform the best in class and show that it will save money compared to other treatments, including long hospital stays, said Bill Knerr, life sciences leader for Ernst & Young's Indiana market.
The hope is that insurance companies and pharmacy benefit managers will quickly adopt a superior treatment.
"Payers, in this environment, have no patience for a me-too medical product," Knerr said.
And investors, he said, realize that, and are demanding evidence of a drug or medical device's benefits before jumping on board.
Some business advisers say companies need to take a hard look to see whether their product fits that description.
"I think one of the lessons that researchers have to learn when they take their baby out of the academic world and into the marketplace is that it may be the love of their life, but it's competing against some other easier, less risky opportunities," said Joe Trebley, CEO of Monon Bioventures, a Fishers firm that helps scientists commercialize their inventions. "So you have to make the case, you really do, and then have to accept what the market's going to bear for that."
Making the pitch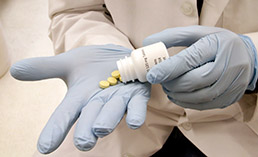 Apexian Pharmaceuticals ordered 15,000 doses of a drug that it hopes to test on cancer patients with solid tumors. (IBJ photo/Lesley Weidenbener)
Despite the long odds, Apexian, with 10 employees, is trying to push ahead and become one of the success stories.
Just about every day, Carchedi, the CEO, picks up the phone and calls potential investors. If he's lucky, he will be granted an appointment so he can show up in person, with slides and handouts, and make a presentation. Otherwise, he might have to make a short pitch over the phone.
Either way, he said, racks up about 50 presentations a month. It's gotten to the point he can recite the presentation from memory, sometimes without thinking about it.
"Just last night, I was having a dream, and I was giving a presentation," he said in a recent interview. "I can literally do this in my sleep."
Some other biotech executives say they know the feeling. Derek Small, CEO of Assembly Biosciences in Carmel, announced a licensing deal in January with pharmaceutical giant Allergan Plc that is worth at least $50 million and could grow to more than $2 billion to help it develop drugs for gastrointestinal maladies.
But earlier in his career, Small was out beating the bushes for another company he helped launch, Naurex Inc., based in Evanston, Illinois, which was developing therapies for central nervous system disorders.
"The 50 presentations a month, you know, I've done that—that's exactly how it took us five years to raise $2 million at Naurex," he said. "And then ultimately we ended up raising $160 million and the company sold for over—well, a lot of money, and the investors made a lot of money."
Allergan acquired Naurex for more than $600 million and is now conducting late-stage clinical trials on one of the drugs.
At Apexian, the management team is still trying to drum up smaller sums. Last year, it raised $1.26 million from undisclosed investors, according to PricewaterhouseCooper's MoneyTree venture report. But most of the presentations, Carchedi said, have ended in rejection.
"I have never worked so hard in my life to raise so little," said Carchedi, who took over as CEO last year. He previously spent much of his career at large pharmaceutical companies, having worked in commercial development for Eli Lilly and Co., Bristol-Myers Squibb, Johnson & Johnson and Mallinckrodt Pharmaceuticals.
What the company is pitching seems highly promising, at least in early development. Much of it is the work of Mark Kelley, a professor of biochemistry at Indiana University and chairman of pediatric oncology research.
Kelley has spent more than 25 years researching ways to target a biological pathway called APE1, a molecule found in many cancers, including tumors of the colon, lung, breast and pancreas. He studied numerous possible ways to block the molecule.
In the meantime, a Japanese pharmaceutical company, Eisai Co., had been developing a molecule for anti-inflammation and anti-hepatitis. Eisai tested it in about 400 patients, and determined it was safe, but found other compounds that seemed to work better on inflammation and hepatitis. So the company shelved it.
But Kelley, who is also Apexian's chief scientific officer, read the studies and concluded it would be useful on his cancer target. Apexian acquired the rights to develop the drug for cancer.
"My lab has done a lot of [preclinical] research on how the drug works on the target protein, how it blocks it, and its effect on cancer," Kelley said.
In addition, he said, the drug seems to have other benefits: It has an effect on DNA repair, which is important because a lot of drugs that are used to treat cancer have severe side effects, such as tingling in the fingers.
"Those side effects are actually mitigated by the use of this drug," said Roger Miller, Apexian's chief operating officer.
And because Eisai had published so much on the drug's safety and toxicity, and how to make it, Apexian felt it had a head start in getting the drug approved for testing. The company submitted the drug to the FDA as an investigational new drug application. Within days, the FDA approved it for clinical trials.
Now the company just needs to raise millions of dollars to get into the clinic.
"We're trying to move the company and the assets forward," Carchedi said. "But if you don't have the capital to do it, you can't engage in much activity."•
Please enable JavaScript to view this content.